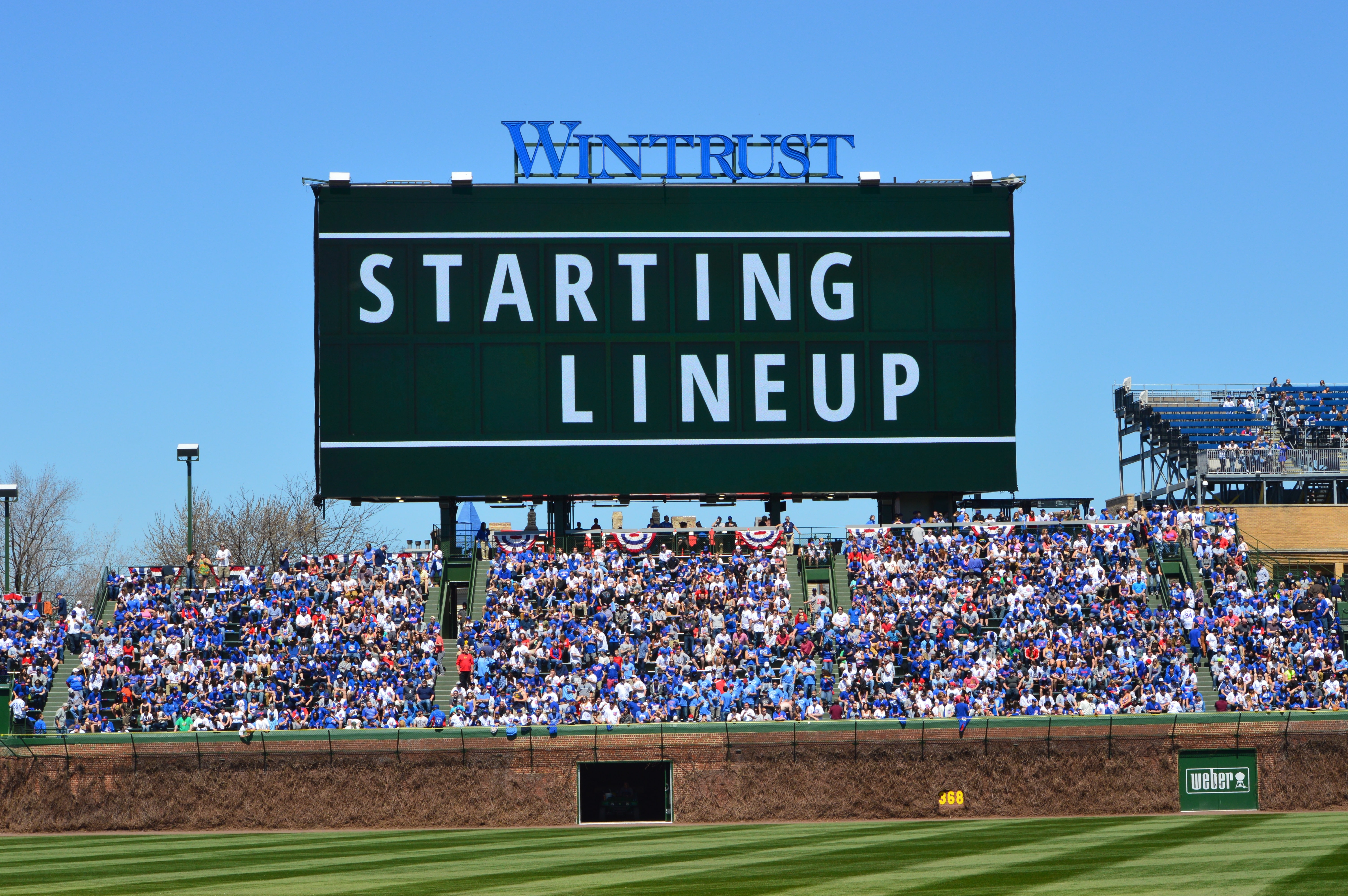 Chicago Cubs Lineup: Jay Leads Off, Bulk of Lineup Unchanged as Cubs Try to Salvage .500 First Half
If I had told you the Cubs would need a win on the last day of the first half just to push them to a .500 record, you'd have laughed at me. Or you'd have called me names. Actually, those are both the case for me on a daily basis. Anyway, we've arrived at an unlikely truth here in the lead-up to Game 88 of the season.
While the flashes of hope they've provided have quickly been dashed by the cold water of reality, we are at least starting to see more consistency in one area. True to his word, Joe Maddon has been going with more of a standard template when it comes to lineup construction, with the seven spots through the heart of the order remaining somewhat static over the last few games.
Notable exceptions today are Jon Jay leading off and Addison Russell hitting eighth, though both have occupied those spots on a pretty regular basis. As has been the case since May or so, the middle infield is where we're going to see the most fluctuation moving forward. Ben Zobrist hasn't been healthy and hasn't performed very well when he's in there. The same can be said of Addison Russell.
Ian Happ, on the other hand, has proven that he needs to be in the lineup, so he continues to shift between center and second base. He's at the latter this afternoon as Jay occupies center with Zobrist on the bench. Mainstays Kris Bryant and Anthony Rizzo anchor the top of the order, with Kyle Schwarber once again hitting fifth.
Schwarber's coming off of a game that saw him single to left and homer to center while also drawing a four-pitch walk, all encouraging signs. Willson Contreras looked a little out of sorts yesterday, but is a more than capable six-hole hitter. Jason Heyward, who has seen his OPS dip below .700, is still coming back around from that hand abrasion and does hit right-handed pitchers much better than he does lefties.
Russell is down at the bottom of the order, where the hope is that he can just find that groove again. Shoulder issues have dogged him and may be contributing the ugly hacks he takes from time to time.
Jon Lester is on the mound looking to close the first half with a better effort than the one we saw in his last start against Tampa Bay. The de facto leader of the pitching staff has fallen behind early in several games and has then buckled down to keep the Cubs in the hunt, but it'd be a really good idea to avoid those mistakes this time around. I guess that goes without saying, huh.
Righty Jameson Taillon is pitching for the Bucs and is facing the Cubs for the third time this season, which is pretty amazing, all things considered. Dude only missed a month or so of the season after undergoing surgery to treat testicular cancer, which is crazy. Glad to see him back out there on the bump.
I could look at how he handled each of those two previous starts, but I think we know better than to think the Cubs' previous results would have any bearing on the future. One trend that could come into play, however, is Taillon's 15.1-inning scoreless streak. And by that, I mean that he's due to give up a few here soon.
The 6-foot-5 righty doesn't pitch to much of a platoon split, though right-handed hitters have accounted for 14 of the 20 extra-base hits he's allowed. Only five of those have been homers (0.72 HR/9, 14th best among with min. 40 IP), so the Cubs may not be able to mash their way to a win this afternoon. Then again, they've been great at defying my expectations.
First pitch is at 12:10 CT on WGN, which gives you a head start on not watching much baseball over the next few days.
***Update***
Jameson Taillon came down with flu-like symptoms and has been replaced by Chad Kuhl. Also a righty, Kuhl has been better over the last month or so than his numbers indicate. He's not much of a strikeout guy (6.87 K/9 over his last seven starts) and he doesn't have great control (3.55 BB/9 in that same time), so the Cubs can afford to be a little more patient against him than they could have with Taillon.
Kuhl also has some pretty stark platoon splits, giving up a .971 OPS to lefties on the season. Now if the Cubs can manage to get more than a pair of solo shots, they might be able to make some noise.
Here is today's #Cubs lineup as we wrap up the first half.

Game preview: https://t.co/60XuJN8Nno pic.twitter.com/9VFCzznXw5

— Chicago Cubs (@Cubs) July 9, 2017