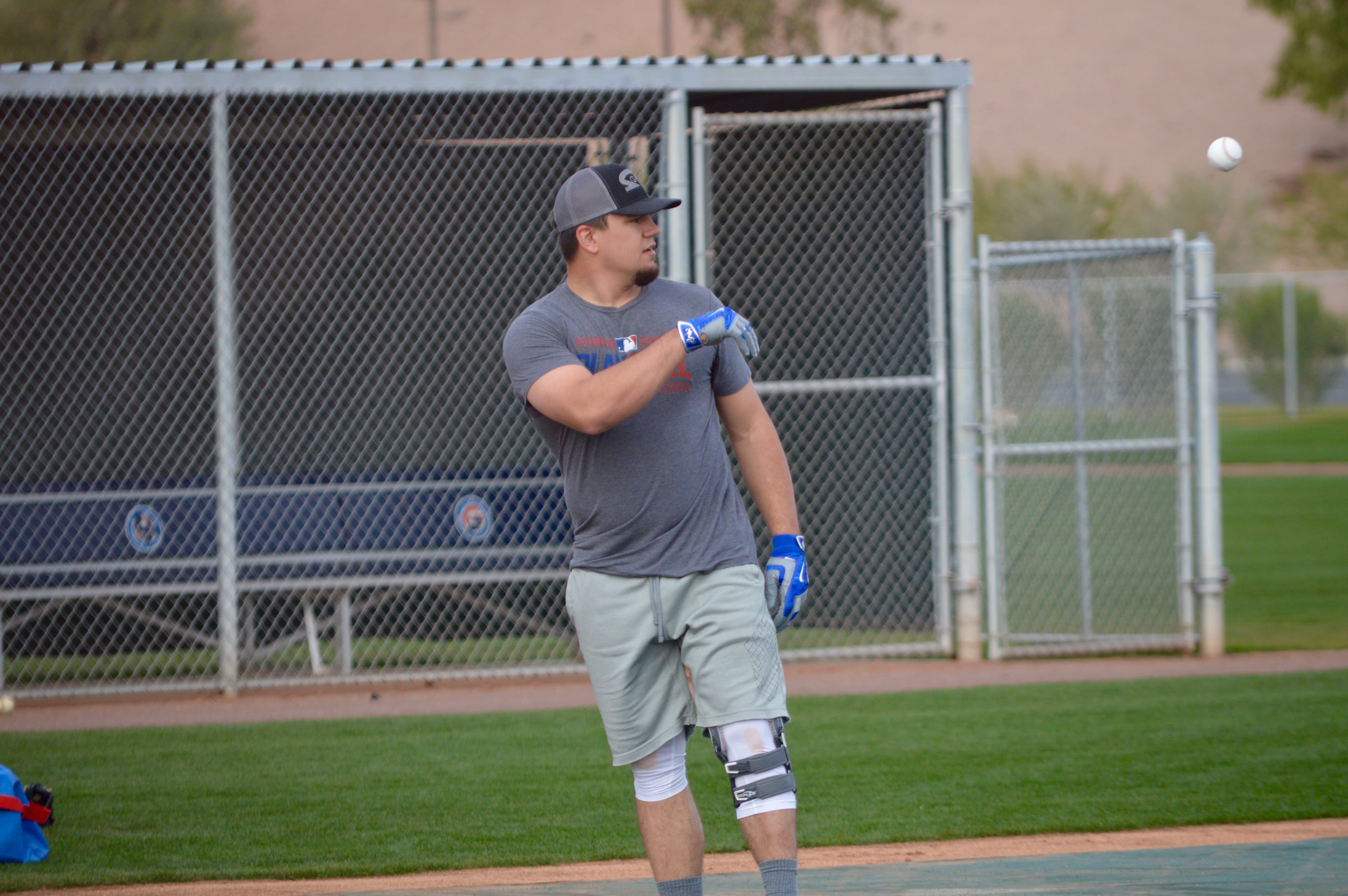 The Rundown: Thoughts on Schwarber's Demotion, Arrieta's Hobo Hair
Kyle Schwarber is not a failure. He may have momentarily fallen off the Babe Ruth hype train that Theo Epstein has conducted over the last few years, but now it's just a matter of dusting himself off and hitchhiking to Des Moines.
Lest I make the Cubs baseball boss out to be the cause of all this, I should acknowledge our mutual complicity in this whole thing. We all — most of us, anyway — bought into this thing in a big way. And in that sense, this is an investment that's taken a downturn. You only lose your money if you cash out. But for those who stick with it, the return could be sizable.
Or, you know, the whole deal goes belly-up and you're left with nothing.
I could probably devote a lot more time to this and really dive in, but I'm going to break it down into some more palatable chunks. I hope.
Mental impact of hitting leadoff
For the longest time, I believed it was pure myth that Schwarber batting leadoff had irreparably corrupted his approach. And I still believe that to the extent that many present it, the writ-large idea that he's not a leadoff hitter and that this was an ill-conceived experiment that was doomed to fail. What we're seeing from Anthony Rizzo is proof that a non-traditional hitter can thrive at the top of the order, at least for a while.
But what I'm more concerned with is Schwarber's lack of aggressiveness and how that got him into trouble when trying to lead the offense. I've made note several times of the fact that he's taken more strikes than he's whiffed at, but that he's compiled three times as many swinging strikeouts as backwards K's. Rizzo has excelled when he's swung early, averaging around three pitches per plate appearance as a leadoff hitter.
Schwarber was doing a great job of working deep at-bats and seeing a lot of pitches, he just failed miserably in those situations. It was like following your GPS to a place you've never been and then having your cell signal cut out 10 miles from the destination with a few winding country roads yet to traverse. Sure, you can pull out your trusty map, but that requires you to pull over and pore over it, fighting the whole time to keep it flat.
That was Schwarber at the plate. He'd get most of the way to his destination and then would get lost and have to flail away in the hopes that he'd eventually get lucky and find himself. He had stopped being a hitter.
Overworked
"And he's working his tail off maybe too much at times and just crushing the video and in the cage all the time," Theo Epstein said three weeks ago of Schwarber's efforts.
It looked like it was paying off for a while, but then he backslid again.
"As hard as Kyle was working, working harder than anyone,  it had gotten so deep that it was hard for him to take the things he was working on in the cage and take them out into the game with him," Epstein admitted yesterday on 670 The Score.
That same intense drive that had pushed Schwarber through a grueling rehab process and gotten him ready to play baseball just six months after knee reconstruction might now be hampering him. Think about it: He couldn't channel anything into actual baseball. All that work was going into getting his body right, watching film, trying to reach the ultimate goal of being able to step onto the World Series stage.
And it worked, for a moment. Think about when you've got a big event coming up, whether it be a vacation or an important business meeting. You bust your ass to prepare for it and pour yourself into that effort, leaving you dead tired. But when you try to get some rest, your mind is still spinning too fast to allow you to shut down. Then you're wired the next morning from sheer adrenaline, a sensation that can only last so long.
I posit that Schwarber was in much the same position, pushing himself so hard that he just got wound up too tight. It's one thing to be ready for a few games after a season off, but it's quite another to be prepped and ready for the long haul.
Inconsistency
Perhaps the most preventable factor in this matter is the lack of consistency, the blame for which (if you feel like assigning any) lies squarely with Joe Maddon. Schwarber started at eight different spots in the batting order over the last 18 games and seven spots in the last 10 games. If you add in the time he batted fourth after replacing Jason Heyward following that hand injury, Schwarber has batted in every spot over the last three weeks.
The way Schwarber was deployed flies directly in the face of the rhetoric from an organization that has preached consistency with processes over the last several years. It's impossible to say whether keeping him at seven or eight or nine in the order would have helped anything, of course, but Maddon sure didn't do Schwarber any favors.
Conclusion
While no timeline has been given, I remain convinced that the Cubs want this to be a three-week thing. They've said it's a chance for Schwarber to "clear his head" and that he just needs to get back to being himself. Needing only 14 games to get right might seems like an ambitious mark to shoot for, though I think it makes sense on a couple levels.
First, I don't believe we're talking about a mechanical issue. If that was the case, it'd be odd for the Cubs to send Schwarber away from the organization's top hitting instructors. We saw how the Cardinals sent Randal Grichuk all the way down to single-A to work with a specific coach, though, so there is precedent for such a move. If Epstein's words are to be taken at face value, and I have no reason to believe they shouldn't be, this is about a break from the grind.
The Cubs have encouraged Schwarber to take a few days off from baseball, which coincides with Iowa playing in Round Rock (TX) over the weekend. The I-Cubs return home Monday, which would give their newest addition four days to decompress. From there, he'd be able to play in 14 straight games, an opportunity he would not have had with the Cubs. Whether it's as DH or in left field, the everyday run may actually allow him to shut off his brain.
If that sounds weird, ask yourself whether it's easier to shut off your brain when you remain active or when you're taking frequently.
I'm not sure what exactly will tell the Cubs that Schwarber is himself again, though I think the best way for him to get to that point is to simply go out and play baseball. He can be in the same spot in the lineup and not worry so much about the team results for a couple weeks of games that are bookended by four-day breaks.
Again, it's probably pie in the sky to think that Schwarber could be back with the Cubs by the start of the second half, but I still think it's possible.
Arrieta's new 'do
With that new close-cropped coif, Arrieta has the appearance of a mangy drifter who rode to Miami in a boxcar. It looked as though his beard was a little less bushy as well, which may have helped his aerodynamics in the windup.
Whether it was the new look or just stronger antiperspirant keeping his hand dry, Arrieta was much more of a harrier than when he was hairier. His fastball velocity started out even lower than what we've been seeing this season already, but it picked up steam as the outing went along. Watching the game in the fits and spurts dictated by CSN Chicago's spotty broadcast, it appeared that the Cubs pitcher was easing himself into a rhythm.
He recently admitted that the cumulative workload of the last few seasons has impacted his performance, so it's no surprise that we've see the free-agent-to-be sort of ramping up in what is almost certainly his final season in Chicago. Rather than try to blast through that fatigue, he has allowed his body to guide him in terms of rediscovering that comfort zone.
Arrieta didn't generate many whiffs Thursday night, but he was getting a lot of ground ball contact and generally getting Marlins hitters to put the ball in play at defenders. Other than a solo shot, there was zero damage to report. This was far from the type of dominant performance we had been spoiled by in 2015, but this new Arrieta is something I think fans could get used to.
More news and notes
Derek Jeter told MLB he needs more time to raise money for Marlins purchase

You know Rob Manfred RE2PECTs the hell out of Jeter and wants him as an owner
This whole situation is just a poopstorm

The White Sox are looking to trade Todd Frazier, but Jon Heyman reports that they'd "have to practically give him away"
Heyman also reported that the Sox may be targeting the Yankess in a Jose Quintana deal
Andrew McCutchen remains the most likely Pirate to be traded, particularly as his improved performance coincides with a flailing team