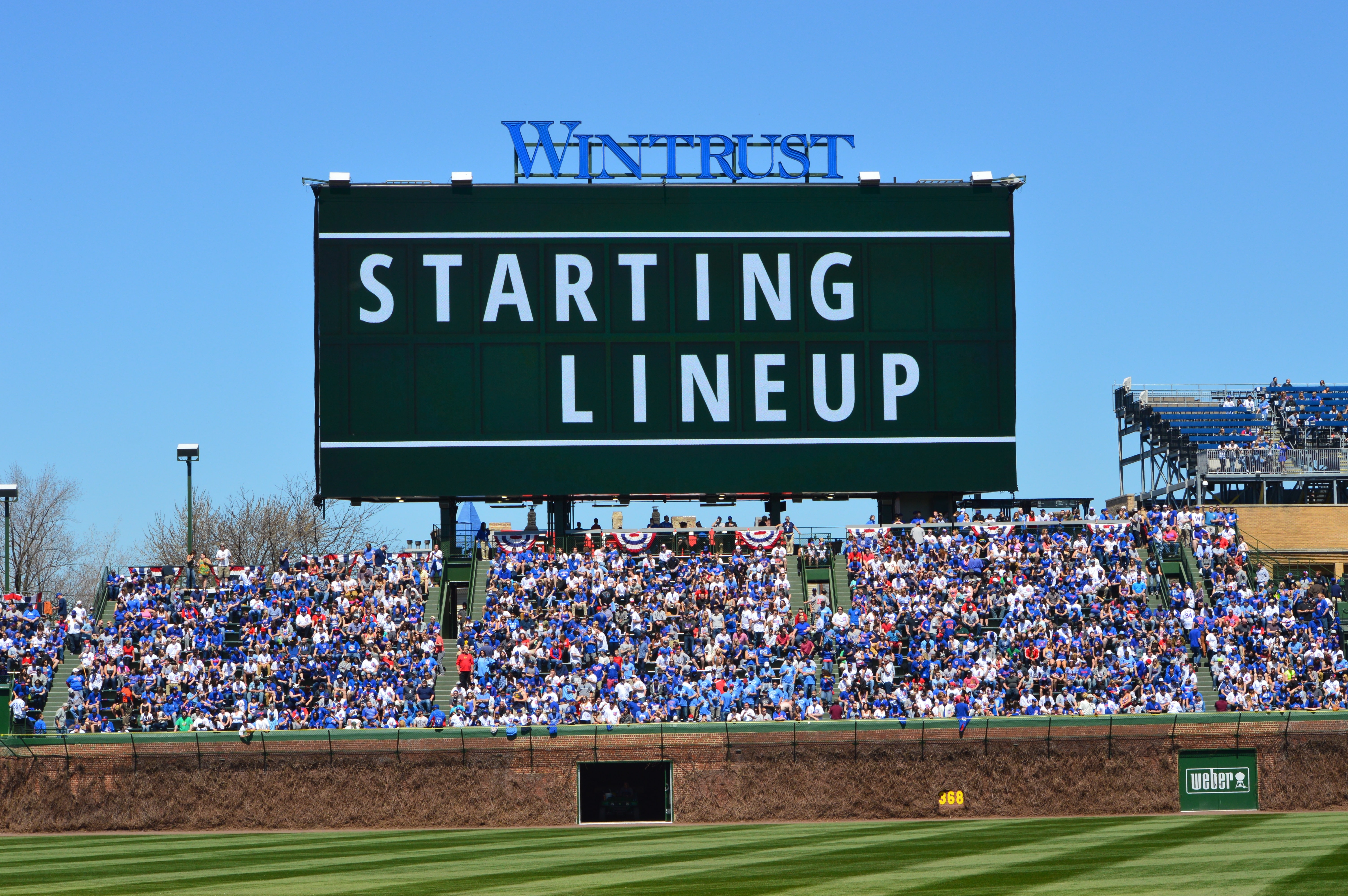 Chicago Cubs Lineup: Rizzo Looks for Eight, Bryant in Right, Schwarber Third as Cubs Go for Sweep
"Un-freaking-believable," said Jim Deshaies as Anthony Rizzo trotted home after his third leadoff home run. As much as it seemed like a gimmick at first, Rizzo has reached safely in all seven of his first at-bats and will look to make it eight against a rookie who doesn't do well against lefties.
Kris Bryant is once again batting second and is playing right, with Kyle Schwarber hitting third and manning the other corner. Addison Russell is cleaning up and Ian Happ slides down to five, which I think is a little more suited to his approach. Tommy La Stella gets the start at third as Joe Maddon loads up early on those lefty bats.
Willson Contreras is back behind the plate after an uneventful start in left, while Albert Almora Jr. once again patrols centerfield.
Eddie Butler has maintained a spot in the rotation mainly by default, though he's shown flashes of being a dependable back-end guy. Control has been his bugaboo so far, though home runs have stung him in his last couple of starts. And for a guy who's capable of touching 97 with pretty good life, Butler generates way fewer whiffs, than you'd expect.
He doesn't necessarily need to do that against the Padres, though he will want to do a better job of keeping the ball out of the air. The bullpen hasn't been taxed heavily of late and the offense should be able to put up some runs, so all Butler's really got to do is go out there and not implode. Famous last words, huh?
Padres pitcher Miguel Diaz is making only his third start of the season after working as a reliever to open the 2016 campaign. The 22-year-old Rule 5 righty's first start was in a Johnny Fullstaff team effort on June 10 necessitated by Jarred Coast's trip to the DL. Diaz threw two innings of one-hit ball and touched triple digits on the gun, though he walked three men and only struck out one.
His next start came six days later against his former team, the Brewers, and he stretched out to 3.1 innings. Diaz once again lived in the upper 90's and notched five strikeouts against just one walk, though he allowed four runs on a pair of homers. This is exactly the kind of inconsistency you'd expect from a guy who has thrown a mere 29.1 innings above A-ball, all of which have come with the Padres.
And he'd only thrown 236 total innings since 2012, only 94.2 of which came above rookie ball. This kind of baptism by fire would be unthinkable for a team like the Cubs, but the Padres are much more able to take the risk on a kid with this kind of lighting in his arm. The fastball is obviously Diaz's calling card, and that elite velocity sets up an 88 mph changeup that has been his best pitch to this point.
Location has clearly been an issue for the raw project, who had struck out only 7.36 men while walking 5.22 and allowing 2.21 home runs per 9 innings. And while the latter two could be a little inflated by the limited innings pitched, you'd normally expect the same to be true for the strikeouts. A lot of that comes from lack of deception, as Diaz hasn't been able to fool lefty hitters at all.
With a .327/.411/.625 slash line and .429 wOBA, lefties have absolutely destroyed the young hurler. Hey, does anyone else smell that? I can't quite place it, though it smells something like another leadoff homer. Maybe that's too much to ask after the last seven games, but this matchup certainly sets up well for it. In fact, I'm thinking this could be the perfect day for another offensive explosion from the whole lineup.
The matinee bows at 1:20 CT and will be carried by WGN.
Here is today's #Cubs starting lineup!

Game preview: https://t.co/7wr9degLQM pic.twitter.com/44Brv5UTDE

— Chicago Cubs (@Cubs) June 21, 2017