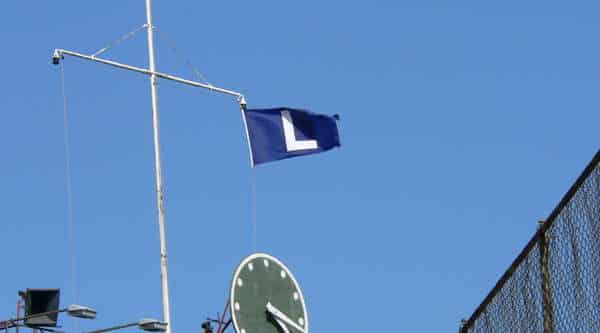 CI Recap (6/14/17) – Mets 9, Cubs 4: One Step Forward Two Steps Back
After a blow-out win Tuesday night against the Mets the Cubs looked to build momentum and win a road series. Wednesday night they fell apart late and suffered another painful loss.
For the second consecutive game Anthony Rizzo opened the game with a deep home run to centerfield. Ian Happ followed with a solo-shot of his own to right to make it a 2-0 Cubs lead.
Starter Mike Montgomery ran into trouble in the 2nd inning. A Kris Bryant error allowed Jay Bruce to score on a Jose Reyes grounder.
After a Jon Jay single, Kyle Schwarber came to the plate with one man down in the 4th. War Bear destroyed a Matt Harvey pitch for a long home run to right field.
The 4-1 Chicago lead wouldn't last for long. Two singles and a walk loaded the bases for pinch-hitter Steven Matz in the 4th. The Mets pitcher reached on an infield single to score a run. Juan Lagares added a sacrifice fly to cut the lead to 4-3.
The Mets tied the game in the 6th inning off of reliever Pedro Strop. Curtis Granderson walked and would score on a two-out triple by Lagares over the head of Albert Almora.
Granderson hit the winning home run off of Carl Edwards to begin the 8th inning. It was also career homer 300 for Curtis.
Hector Rondon came on and faired even worse. Lucas Duda had the big blow with a three-run homer. Addison Reed pitched around a #TeaseRally to close out the 9-4  Mets win.
Stats That Matter
Mike Montgomery didn't get hit hard in his start Wednesday, but his defense let him down: 5 IP, 3 R, 2 ER, 6 H, 4 K, 1 BB. All six hits he allowed were singles, two were infield singles, sometimes it's not how hard you hit them it's where you hit them.
Anthony Rizzo once again led off the game with a homer, but he was quiet the rest of the night.
The Cubs offense was limited to the home run ball — three homers total — Wednesday. The lack of a sustained attack allowed the Mets to climb back in and eventually win the game.
Bottom Line 
Wednesday was another day Chicago took a step backwards after a step forward. Turning points have been elusive in 2017. It's hard to know when the Cubs will ever right the ship.
On Deck
The Northsiders head to Pittsburgh next to open a series against the Pirates. Eddie Butler pitches against Trevor Williams at 6:05 CT. The game airs on WGN.