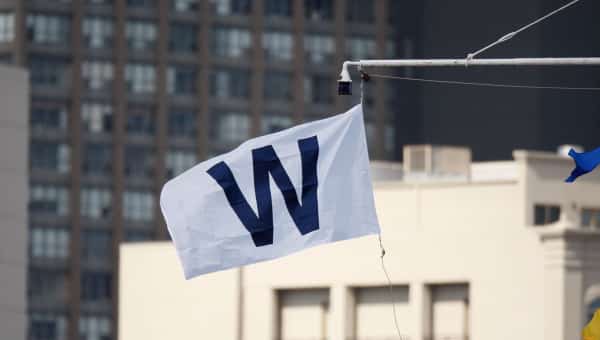 CI Recap (6/13/17) – Cubs 14, Mets 3: Rizz Go, We Go
Manager Joe Maddon said he hit Anthony Rizzo lead-off Tuesday against the Mets to "have some fun." Well the Cubs certainly had a lot of fun in the heat in Queens.
The aforementioned Rizzo opened the game with a bomb to deep center to put Chicago up 1-0. Yoenis Céspedes doubled off of starter Jon Lester to briefly tie the game at one run a-piece in the bottom of the inning.
And then Mets starter Zach Wheeler — who's pitched well in 2017 after missing two years with injuries — imploded in the 2nd. Two walks and a single to Lester loaded the bases for Rizzo with two outs. He worked a walk to force in the go-ahead run. Ian Happ then lined a Wheeler fastball to deep left for a grand slam. Addison Russell followed with a two-run double ending Wheeler's night and making it an 8-1 runaway.
The Cubs weren't done hitting after the 2nd, Rizzo doubled in Willson Contreras in the 3rd and Jason Heyward hit a two-run homer to right in the 5th to make it 11-1.
Kris Bryant took former teammate Neil Ramirez deep to left field in the 7th and Javy Baez smoked a pinch-hit homer to left to increase the Cubs lead to 14-1.
Jon Lester cruised tonight, pitching seven strong innings of one-run ball. Justin Grimm and Felix Pena closed out the 14-3 Chicago win.
Stats That Matter
Anthony Rizzo continues to be smoking hot of late. An RBI-double and a bases loaded walk were great, but his lead-off shot really gave the team a boost.
Albert Almora had a double, two singles, and a walk all while hitting in the ninth spot in the order. The walk was crucial as it kept the seven-run 2nd inning alive.
 Jon Lester allowed nine runs in 1 2/3 innings in his last start at Citi Field. Tuesday was a much different story: 7 IP, 1 R, 5 H, 10 K, and 1 BB. Lester earned his 150th career win, so congratulations to him.
Bottom Line
What a fun game to watch. It was nice to see the slumbering Chicago offense finally roar to life. Of course now is the time where I insert the whole "it's only one game and there is a long way to go" bit. It was and there is, but it was also a well-needed reprieve from the series against the Rockies and hopefully the start of the Cubs coming to life on the road.
On Deck
The rubber match of the three-game series is Wednesday at 6:10 pm CDT. Mike Montgomery makes his second start of the year against Matt Harvey. The game airs on CSN Chicago and MLB Network (out-of-market).