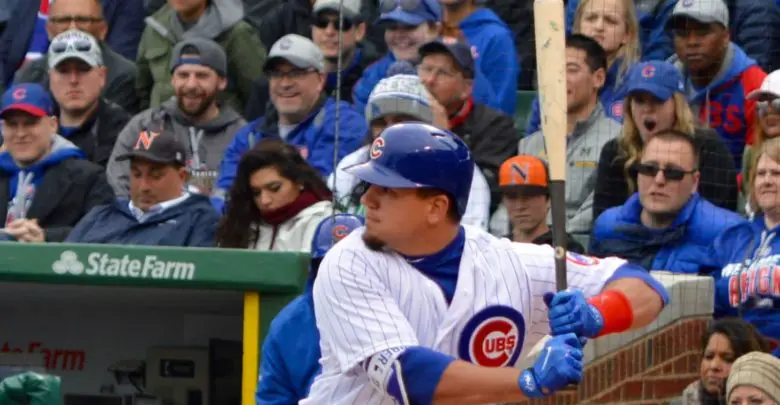 Maddon on Schwarber and Russell's Flagging Confidence, Montgomery's Value
As he does every Tuesday at noon, Joe Maddon joined the Spiegel and Parkins Show on 670 The Score to talk about binge-watching The Crown. It was the preamble to that riveting portion of the interview, however, that actually caught my fancy. Yes, the Cubs manager did indeed share a bit about his team before things ventured into pop culture.
Actually, the conversation began with poop culture, namely the dirty diaper analogy Maddon used when explaining his errant placement of Kyle Schwarber in the seventh spot in the lineup the other day.
"Absolutely, I've always believed in that," Maddon said when asked about owning your missteps. "Not that you look for moments to say that you made a mistake, but if you did, you did. You're trying to build confidence and I'm saying to myself it can't happen in the seven hole. There's no scarlet letter attached to [batting ninth], it's done for a good reason.
And it paid off the first night, the second night he got those walks, I thought that was great. Last night was not a good matchup. Their pitcher last night is a strong reverse-split guy, he really handles lefties better than righties. I probably should not have played [Schwarber] at all."
That's an interesting sentiment given the way Maddon handled questions about his bullpen management last season, particularly in the playoffs. Or, even more particularly, in Game 7 of the World Series. If you recall, he routinely shut down any criticism with some form of "We won, so it doesn't matter." But while he's got the ultimate trump card on that one, Schwarber's struggles have made contrition unavoidable.
It's also a matter of doing what he can to best help his player. This isn't simply a matter of hiding Schwarber in a less important spot in the order, though that's part of it. The reduced pressure of batting at the bottom might allow the slugger to shake something loose, so to speak.
"I tried to explain to him why I wanted to hit him nine and while I was doing that, I explained why I wanted to bat him seven," Maddon said. "And he was good, he was fine, he listened to me. Of course he wants to be hitting in the top four within the batter order, that's what he's always done. And he will.
"Of course (it's been a humbling experience). This is a proud young man and he's such a great teammate and he's such a great talent. And it happens, man. I've been there with different guys before. When he comes out the other side, heads up. He's gonna take off with a fury."
One such player Maddon had to coach through struggles was Devon White, who came up as a third baseman, believe it or not. Maddon recounted that it got so bad at one point that White would be swinging and missing in batting practice. I don't think Schwarber's there yet.
As he works through this patch, though, there are going to be times when he's going to have to sit when the matchups dictate it. Maybe even when the skipper's guy says so.
Though it's not as much a matter of matchups or the handedness of the players in question, Addison Russell's playing time has been the subject of much hand-wringing. He seems out of sorts and tentative at the plate, which could be from an injury. While that's more speculative, it's clear that Russell isn't as confident as we've seen him in the past.
"Of course it's not like the seventh game of the World Series high, but it'll get back there," Maddon said. "I've had good conversations with him, and that's the whole point. I'm trying not have him become overwhelmed or buried either emotionally or mentally.
"If you don't have Javy as your other shortstop, you probably ride Addy a little bit harder and make him kind of work through this because you need the defense so much. I think coming off of last year, and actually the last years, a lot of these younger players…there's still a lot going on in their minds. And being able, in my mind's eye, to right now back off of some of them, I think is going to benefit us later in the season.
"With Addy, and I told him, 'As you get back into the swing of things, you'll be back on your regular patterns.'"
Talk then turned to the rising popularity and awareness of launch angle and the effect that might be having on batted-ball outcomes. While he acknowledged that various players have benefited from such focus, Maddon said he's always been more concerned with understanding how to hit certain pitches and what pitches get certain guys out.
There's no catch-all strategy, in other words, and different hitters are going to need to employ different tactics. In converse, pitchers need to attack hitters where they're weakest and not just assume they can throw the same to every batter.
Mike Montgomery, for instance, is a pitcher who can get big outs against righties or lefties, as evidenced by the strikeout of Giancarlo Stanton on a beautiful breaking ball Monday night. He's operated solely out of the pen thus far this season, but that could change as the Cubs may soon need a sixth starter. Eddie Butler has performed well in the fifth spot and Brett Anderson will be back before too long, so is Montgomery's best value still as a reliever?
"Well the way we're set up right now, obviously, it shows that way," Maddon responded. "I've always believed that this guy can be a big winner as a starter in the major leagues. He's pretty durable. I mean, he'll throw a day or two in a row and he'll tell me, 'I'm fine.'
"The big thing about Mikey for me is that…he's got an outstanding array of pitches. They're all above-average major league caliber pitches. The next level for him, for me, is to understand exactly how to attack each hitter based on what he can do. [If] he commands his fastball against right-handed hitters — and he's been good — but I'm telling you, once that occurs he's really going to take off."
I was hoping for a little more on any specific timelines as far as going with that extra starter, though it does sound like the Cubs like Montgomery exactly where he is right now. While Maddon didn't come out and say it, Montgomery's best value to this team in this moment is as a reliever. That may change in the future, but we're not there yet.
You can listen to the interview in its entirety by clicking the link above and you can catch future Maddonisms by tuning in or streaming Spiegel and Parkins every Tuesday at noon Central.