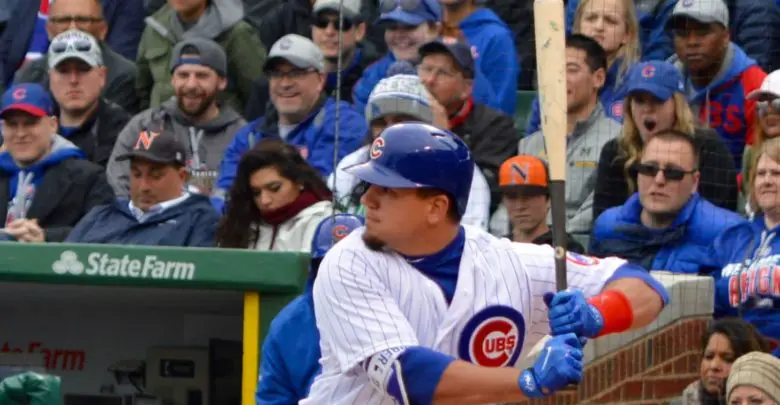 Maddon Cites Justifiable Reasons for Keeping Schwarber as No. 2 Hitter
Kyle Schwarber, the Cubs' number two hitter (which is accurate in metaphorical terms as well),  is batting .173 with a .283 wOBA. Yet Joe Maddon likes what he sees from the hulking slugger. Specifically, the eccentric t-shirt magnate appreciates War Bear's plate appearances when he works counts and raises the pitch counts of opposing pitchers.
Before Tuesday's game in beautiful San Diego, the Chicago media asked Maddon whether he would move Schwarber down in the order in similar fashion to what he did with Jason Heyward last year. Maddon went on to explain that, unlike Schwarber, Heyward had real mechanical flaws that needed to be addressed. While Schwarber's mechanics are sound, Maddon said, the left fielder's struggles are a byproduct of mental hiccups.
"I know he hasn't gotten hits, but I like his at-bats recently," Maddon said about Schwarber. "Right now, Kyle…it's more of the mental process. I'm not saying I won't (move him down in the order), but for right now the at-bats were good."
Indeed, Schwarber has been a beast at working counts. One can even argue that he's made significant positive adjustments to his approach. For example, the former first round draft pick swung at 31.3 percent of pitches outside the strike zone in 2015, his rookie year. He's since improved his discipline and is only swinging at 27 percent of those pitches this season. Even better, he's making 13 percent more contact this year than his rookie year. And 35 percent of the contact he's making has been considered "hard" by FanGraphs, which is saying something considering the MLB average is around 30 percent.
Some of Schwarber's struggles are a byproduct of misfortune. His expected wOBA (xOBA) is .320 based on exit velocity, batted ball location, and launch angle. Just like how his xOBA doesn't match his true wOBA, Schwarber's strikeout rate doesn't match his contact rate. Hitters who make contact at a similar rate (76 percent) typically strike out in around 22-24 percent of their plate appearances, but Schwarber's strikeout rate is an inflated 29 percent. If he continues to make this much contact going forward, strikeouts will naturally normalize.
All that said, these struggles aren't simply due to bad luck; there are real problems that must be corrected. Schwarber is making 33 percent more soft contact this year compared to his impressive rookie year, and 15 percent of his fly balls are considered pop-ups. That's not a formula for success.
Still, Maddon sees a hitter who is working counts, making frequent contact, and is capable of pounding 500-foot shots. Batting that type of hitter second certainly makes sense. Now it's a matter of Schwarber being able to hone the mental part of his game and stop pressing too much.