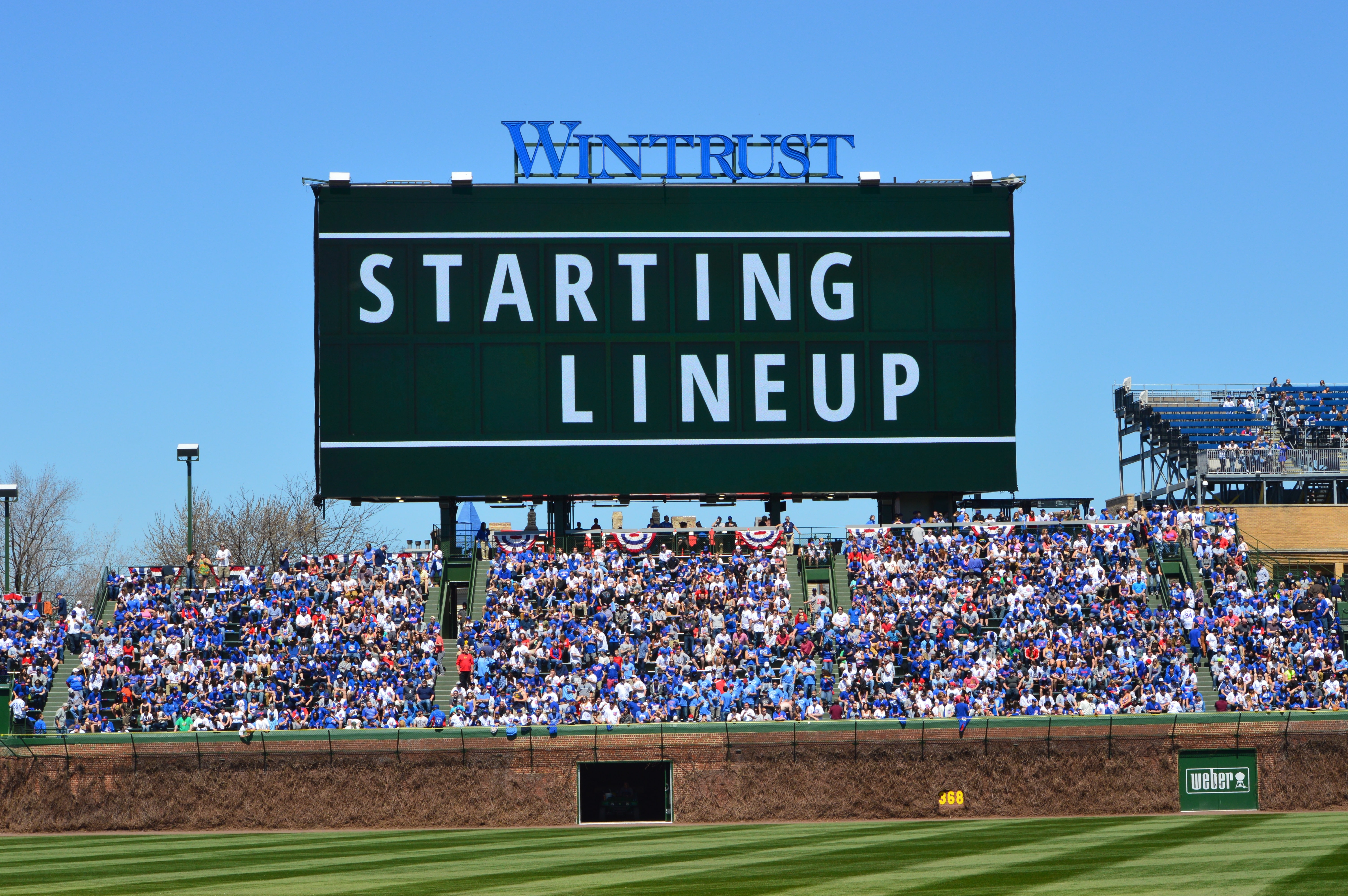 Chicago Cubs Lineup: Baez Leads Off, Almora Second
You know what's fun? Complaining about the leadoff hitter, even when he's no longer the leadoff hitter, because he might once again be the leadoff hitter. Maybe that's why Joe Maddon scrapped whole Ben Zobrist/Kyle Schwarber altogether. Or, you know, not.
Javier Baez is at the top of the order, followed by Albert Almora Jr., who is batting second for the second time in as many starts. Maddon spoke yesterday about getting Almora more time, and Ian Happ's versatility allows him to shift easily the infield. Happ is hitting fifth is what is a pretty standard configuration from the third spot to the bottom.
Miguel Montero is making the start behind the plate and batting eighth to protect his batterymate. It might seem out of the ordinary to have Miggy in the lineup against a left-handed pitcher, but we'll look at that here in a bit.
Giants lefty Matt Moore probably hasn't been as bad as his 5.37 ERA indicates, but a 4.63 FIP says that he hasn't been very good either. Given that he's prone to walking batters (15 in last five games) and giving up line drives (21.2 percent) and flies (41.8 percent), Moore's numbers don't figure to improve much against the Cubs.
While Moore's fastball/cutter/knuckle curve/change repertoire has resulted in nearly even platoon splits over the course of his career — like, just a few points across the whole slash line — his performance this season has skewed dramatically. Lefties are absolutely crushing the southpaw this year to the tune of .360/.455/.729 with a .486 wOBA. Even in a small sample (57 batters), that's not good.
And in case you hadn't noticed, the Cubs have a few lefties who can mash a little bit. Even if one is one the pine.
Kyle Hendricks will be on the mound for the home team as he looks to maintain a steady run that followed some shaky early starts. After allowing 11 earned over his first three starts, Hendricks has allowed only 6 runs over the last five (including two in which he allowed none). Did that make sense? Last year's ERA leader is getting more grounders and fewer flies and he has been just as stingy when he allows contact — .256 BABIP vs. .250 — but something is off.
Hard contact is up big-time against Hendricks, from a previous career mark of around 25.6 percent to 35.9 percent this season. Some of that is from reduced velocity and some early-season struggles with command. The former issue appears to be improving, so perhaps we see the slender righty hitting his spots and inducing a little more weak contact moving forward. The Giants having the lowest hard-hit percentage (27.8) and the fifth-highest soft-hit percentage (21.0) in baseball should help.
First pitch of tonight's game is set for 7:05 CT and will be on CSN Chicago.
Here is tonight's #Cubs lineup against the #SFGiants.

Game preview: https://t.co/fBGYchN1FX pic.twitter.com/fuJ8Q0OObS

— Chicago Cubs (@Cubs) May 24, 2017