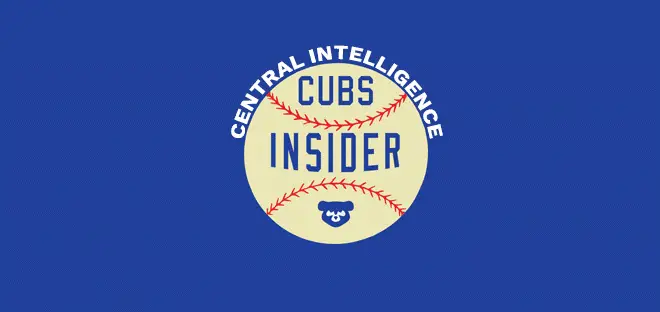 Central Intelligence: A Quick Look at the Division for the Week of 4/16
April is winding down and the good teams are finally starting to separate themselves a bit, though some are still off to a subpar start. Here's a look at what happened in the Central this week:
Chicago Cubs
Went 4-3, bringing their record to 10-8.  The Cubs moved into first place on Friday night, beating the Reds in extra innings.
The Cubs were no stranger to clutch hits this week, as Addison Russell capped Walk-Off Wednesday. Anthony Rizzo had a three-run game-tying homer Friday night. The Cubs had a flare for the dramatic this week, getting two wins in their final at-bat.
Cubs starting pitching continues to struggle, at least compared to last year. The team ERA currently sits at 3.90 through 18 games, while the starters' ERA sits at 4.21.
Ian Happ continues to rope Triple-A pitching, putting up seven home runs already. How the Cubs handle Happ over the season is something to keep an eye on.
Cincinnati Reds
Posted a 3-5 record, bringing their season mark to 10-9.
The Reds pitching has been almost on par with the Cubs, as the Reds have just a 3.85 ERA through 19 games.
Young starter Amir Garrett continues to impress, pitching to just a 1.83 ERA and holding a solid Orioles lineup to just two runs in his last start on Wednesday.
The Reds are looking to bring Devin Mesoraco backsooner rather than later. The series against the Brewers this week is the target.
Milwaukee Brewers:
Posted a percent 3-5 record, bringing them to 9-11. The Brewers dropped a series to the Cubs this week due to two heartbreaking losses.
Travis Shaw has been a good acquisition, as he's already blasted five home runs, along with 18 RBI.
Eric Thames continues to be the steal of the year. Thames' current slash line sits at .359/.461/.828 with 8 home runs. Small sample size and all, what Thames has done cannot be ignored.
Chase Anderson has been the Brewers' best starter, pitching to a robust 1.13 ERA so far in 2017.
St. Louis Cardinals:
Posted a 6-2 record, bringing them to 9-10 on the year.  The Cardinals appear to be the Cardinals again.
Dexter Fowler continues to struggle mightily. His slash line is currently just .169/.241/.296. Feeling the pressure of a big contract, perhaps?
Jedd Gyorko accomplished a rare feat Saturday night, when he notched a Little League home run. Scored a triple, an error allowed him to score.
Seung-Hwan Oh posted five saves this week and looks to have his mojo back now.
Pittsburgh Pirates:
Posted a 3-4 record, bringing their mark to 8-10. In a rare set of occurrences, the Pirates got swept by the Cardinals, all by the same score (2-1), in St. Louis.
David Freese continues to hit; his average currently sits at .315 with three dingers.
Tyler Glasnow is struggling with efficiency. On Friday night, he lasted just 4.2 innings, throwing 102 pitches. However, the walks were down, as he only walked two hitters.
Starling Marte got busted for PEDs, leading to an 80-game suspension. That could be a killer for the Pirates.