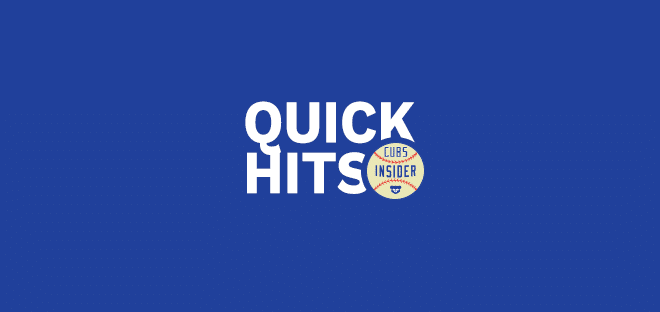 Cubs Quick Hits: Top 9 Hardest-Hitting Cubs in 2016
Which Chicago Cubs hit the hardest baseballs last year? The results from Baseball Savant's batted-ball leaderboard might surprise you. Please note that the numbers below represent only the hardest-hit ball for each player, so it's not really a definitive list (hence the lack of Bryzzo domination).
Jorge Soler (4/18/16; error): 114.7 MPH (video)
Willson Contreras (9/16/16; double): 113.7 MPH
Anthony Rizzo (7/9/16; single): 113.5 MPH
Kris Bryant (4/13/16; home run): 112.6 MPH (video)
Javy Baez (8/5/16; double): 112.3 MPH (video)
Jason Heyward (8/11/16; GIDP): 110.8 MPH
Albert Almora Jr. (6/30/16; forceout): 110.7 MPH (video)
Ben Zobrist (4/28/16; single): 110.4 MPH
Jon Lester (4/17/16; double): 109.9 MPH (video)
For the sake of context, the hardest-hit baseball in MLB (123.9 MPH) came off the bat of Giancarlo Stanton. But you want to hear something that'll really bake your noodle? If you rank Stanton's batted balls by order of decreasing exist velocity, you'd have to get down to the 28th spot to find one equal to that of Soler above. Whoa.