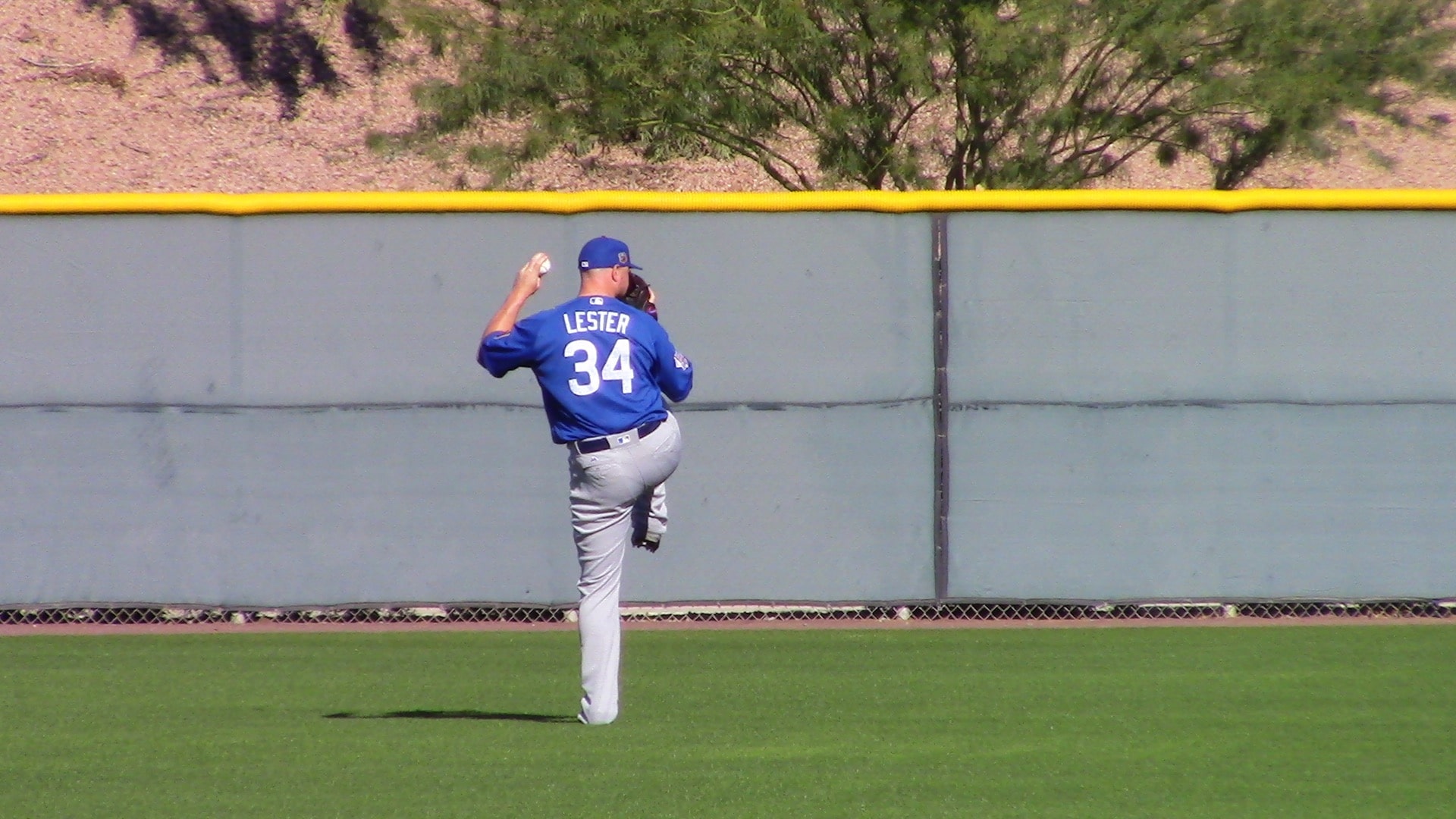 The Rundown: When Will the Starters Start Starting, 'Hybrid' Role for Fifth Starter, Mike Quade Hit by Car that Doesn't Stop
The performance of the Cubs' starting rotation was a huge factor in the team's moderate success last season and the same figures to be true this season. Why, then, are we seeing so little of the core four holdovers from last year's group of starters?
Joe Maddon has stated a desire to provide as much rest as possible for arms that have pitched deep into the postseason the last two years. When you figure that a great deal of the great results were due to extraordinary collective health, it makes sense to give those guys as much time as possible to recuperate. But that idea doesn't hold much water knowing that early Spring starts generally last all of an inning or two.
In light of everything else going on, the strategy of holding the primary starters back is more about showcasing some of the new additions and auditioning some of the guys who will be expected to fill a spot at the back end of the rotation at some point. More on that in a bit.
After seeing Mike Montgomery and Rob Zastryzny in the split-squad games Saturday, the Cubs sent Jake Buchanan to the mound Sunday and will debut Brett Anderson Monday. Then you've got Alec Mills (acquired from Royals) and Eddie Butler (Rockies) staring Tuesday and Wednesday, respectively. All of which is to say that we won't see Jon Lester or Jake Arrieta or Kyle Hendricks until maybe March 2 at the earliest.
No, I didn't forget John Lackey. It's just that with him, I get this sense that he could wake up from his winter hibernation and take the bump every five days fueled by nothing more than guile and gall.
Hy(brid) 5
Two of the weekend's starters, Montgomery and Anderson, have long been assumed frontrunners for the final spot in the rotation. It's been written here on the pages of this web log, and elsewhere, that Brett Anderson would have the inside track as long as he avoids injury, but that the role is likely to be in constant flux. Not known for his good health, Anderson isn't going to be pushed too hard.
That means quite a bit of time in the rotation for Montgomery, who has plenty of promise and only learned about proper pitch sequencing upon being traded to the Cubs last season. But is that the solution to his long-running problems with turning lineups over multiple times or does he have more nefarious demons to exorcise?
"The big thing with both of them…neither one has really been stretched out anywhere close to 200 innings over the last couple years," Maddon explained of his "So we're thinking it's almost like a hybrid moment. Maybe fold one back into the bullpen while the other one starts. And vice versa. Or just jump a sixth guy in there now and then to keep the other guys from being overworked too early."
That's pretty much exactly what some of us have been speculating, but it's nice to hear the skipper give voice to the plan. As for committing anything in ink, though, we haven't quite gotten that far.
"It's in theory right now," Maddon continued. "We haven't actually laid it down on paper. We feel pretty fortunate. If everybody stays healthy, you got six guys that you like right there. It's hard for anybody to say that. That's the point. How do we keep them both active and helping us? That's going to be our challenge early and through the beginning part of the season."
Any team that suffers a major injury to a key starter is going to be in trouble, but the Cubs do at least have a pair of indemnity plans in place should the worst befall them. And if they can manage to repeat last season's run of good health, those backup options could really end up providing a nice bit of luxury.
More news and notes
A noted Curb Your Enthusiasm fan, Maddon missed his chance to make a cameo on the revived comedy when a Cactus League media event conflicted with filming.
Javy Baez is already doing Javy Baez things and it's still just February
Just another ho-hum play from Javy Baez. pic.twitter.com/qRUNvx1pAg

— Cubs Insider (@realcubsinsider) February 26, 2017
Former Cubs manager Mike Quade uninjured after being involved in a frightening accident in which his stopped vehicle was struck by a car going 40-50 mph.