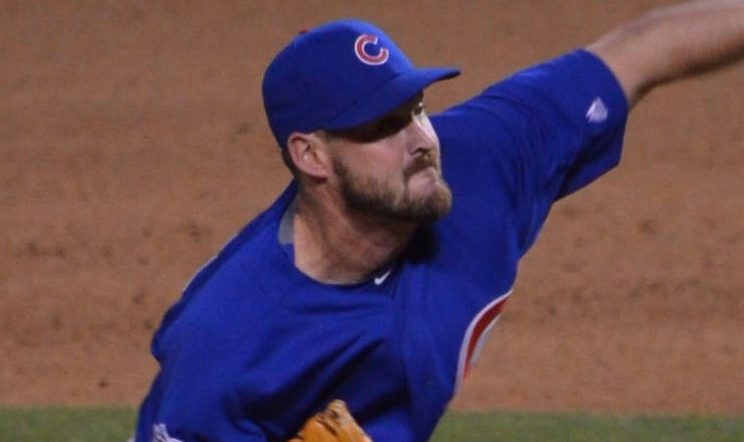 The Rundown: Vegas Likes Cubs, Padres Looking at Travis Wood, Tigers Owner Passes Away
As we covered earlier in the week, PECOTA hates the Cubs. Maybe "hate" is a little strong, but c'mon, only 91 wins? As Brendan Miller pointed out in that linked piece, even the best projection systems have their shortcomings. And while PECOTA is better than most, it's still limited by its inability to take into account all manner of unquantifiable factors.
As such, I think the Cubs — despite having boatloads of talent and a World Series title to their credit — might be hurt more than other teams. This is probably just my rampant homerism talking, so have the kosher salt handy, but I truly believe chemistry and all that other psycho-babble hoo-ha contribute very heavily to their success. You know what, though, that's not even about me being biased.
I've been banging this drum like I'm singing a bad Todd Rundgren cover and I'll continue to do so all day until well after you're tired of it. Which is to say I'm quite enamored of the Cubs' focus on character and mental acuity. That's part of what got them to the World Series, part of what helped them win it, and part of what will get them back. But it's not part of PECOTA.
Know who does pay attention to intangibles and the human element, though? That's right: Vegas. There's a reason they keep building multi-billion-dollar testaments to excess in the middle of the Nevada desert, and it ain't because they're dumb. So let's see what the folks at Atlantis have to say about the win totals for the upcoming season.
Here's the full list of 2017 MLB win totals released by @atlantiscasino today. Anything jump out? pic.twitter.com/a6idZDZeSh

— Joe Ostrowski (@JoeOstrowski) February 10, 2017
Looks like the Cubs are projected for 95.5 wins, a full 3 games better than the Indians overall and 4 games better than the Dodgers in the NL. Yeah, I'd say that's about right.
Padres May be Getting Wood
Travis Wood figured to have a relatively robust market this offseason, what with him being a lefty with a pretty solid resume that includes both starting and relief duty. It's been widely reported — not to mention assumed — that Wood wanted and would get an opportunity to start on a full-time basis again, and the Padres may be willing to give it to him. Jered Weaver is reportedly under consideration as well.
Okay, so this is kinda weird and I really want it to happen. Why? You know how Jed Hoyer and Jason McLeod came over to the Cubs from San Diego after Theo Epstein was hired? Yeah, well, it looks like the Pads are trying to emulate what their former leadership is doing in Chicago. Except, like, not quite as well.
With Clayton Richard and Trevor Cahill already in the fold, Wood would give the Padres a rotation that features three former Cubs. Not sure that's necessarily the best way to mimic the champs, but I guess you have to admire the effort. And the thriftiness.
For what it's worth, I still believe Wood's most valuable as a reliever who can come in to face lefties and then rotate out to left field when a righty comes up. If someone wants to pay him to start, though, I'm all for the shirtless Arkansan getting his.
Tigers Lose Owner Mike Ilitch
If I couldn't already lay claim to two of the baddest-ass grandfathers this side of the Mississippi, I'd want to be part of Mike Ilitch's family. The son of Macedonian immigrants, Ilitch served for five years in the United States Marine Corps before trying his hand at professional baseball.
He washed out in that endeavor, but went on to find success as a door-to-door salesman, eventually earning enough to open a pizza pizza joint. Little Caesars growth enabled Ilitch to purchase the Red Wings and then the Tigers, sparing no expense in attempts — very successful for the former — to turn both teams into winners.
Christopher Ilitch is expected to take over for his father, so Tigers fans have to hope the apple fell close to the tree.
Other news and shameless self-promotion time