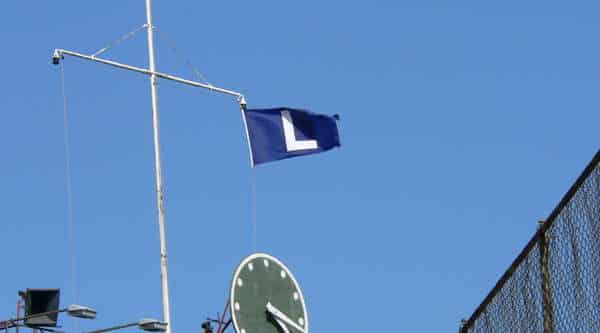 A Tip of the Recap- World Series Game One (Cubs 0, Indians 6)
W: Corey Kluber (1-0, 6IP, 0ER, 4H, 9K, 9.00 ERA  )
L: Jon Lester (0-1, 5.2IP, 3ER, 6H, 3BB, 7K, 4.76 ERA )
MVP: Andrew Miller (For working out of two jams)
The Chicago Cubs are in the World Series! That's just a reminder in case it hasn't settled yet.
The Cubs and Indians duked it out in Cleveland for game one, and it didn't quite go as The Cubs and their fans had hoped. It was a 6-0 losing effort, but it wasn't a complete bust, as they were able to show signs of life offensively.
The Indians got things rolling early, scoring two runs off of Jon Lester in the very first inning. He was able to retire Rajai Davis and Jason Kipnis in order. Next up was one of the Indians' biggest starts, Francisco Lindor, who singled. Then Lester uncharacteristically issued back-to-back-to-back walks to Mike Napoli and Carlos Santana. Lester, who was one out away from getting out of the inning, now had bases loaded with two outs.
Jose Ramirez drove in the first Indians run with an infield single to Kris Bryant. Lester was one strike away from getting out of the inning but hit Brandon Guyer with a pitch to force in a second run. He eventually got out of the inning by getting Lonnie Chisenhall to pop out.
Sure, Lester wasn't on his game in that inning, but he was noticeably getting squeezed in the zone by home plate umpire Larry Vanover. It was bad enough to where the FOX broadcasters were pointing it out. That first inning was even worse, as Indians starter Corey Kluber got a very generous strike zone in the first inning.
In the bottom of the 4th, Indians catcher Roberto Perez hit one of his two home runs. This one was a solo shot that put the Indians up 3-0. His other home run was a three-run bomb that  came in the bottom of the 8th off of Hector Rondon.
The Cubs were shut out, but not because of lack of chances. The top of the 7th started with a Ben Zobrist single. That drove Indians starter Corey Kluber out of the game and brought in one of baseball's most talented relievers, Andrew Miller. Kyle Schwarber drew a walk and Javier Baez singled to load the bases with no outs. Unfortunately. The Cubs failed to do anything as Willson Conteras flew out and both David Ross and Addison Russell struck out.
The Cubs had another chance in the top of the 8th wheng they had men on the corners with two outs with Kyle Schwarber at the plate. He fell victim to Miller's slider and struck out swinging. Miller proved once again why he's one of the best relievers in the game by shutting down a very talented Cubs offense.
The Good
Corey Kluber threw six innings of shutout baseball and limited the Cubs to only four hits while striking out nine. He has this way of pitching where the delivery makes the ball seem like it will end up out of the strike zone but it seems to clip the strike zone at the perfect moment. Luckily for the Cubs, Kluber won't pitch every game.
Man, Andrew Miller is good! He wasn't perfect, but he worked his way out of two jams that really could have changed the game around. Miller threw 50 pitches in his two innings of work, so if anything is encouraging, it's that the Cubs saw all of his pitches and can use that to their advantage moving forwarf
Francisco Lindor is one of the most talented players the Indians have. There is a lot no doubt that he's going to give the Cubs trouble in this series. He went 3-for-4 with a run scored. The Cubs will need to find a way to keep this guy off of the bases as he also stole a base last night.
There was so much buzz about Kyle Schwarber's return as he wasn't expected to play again in 2016 even if the Cubs made the World Series. He went 1-3 with a walk. His one hit was a double which was mere inches away from being a solohome  run.
The Bad
The Cubs simply could not hit with runners in scoring position. They had two chances and couldn't come through because the merciless Andrew Miller shut them down. Jon Lester kept his team in the game, but the lack of offense didn't help Lester's cause at all. If the Cubs are going to win this series, they have to find a way to do damage to the starters because this Indians bullpen is lights out.
The Ugly
It's been the common theme of this postseason- umpiring. Jim ome plate umpire Larry Vanover was terrible last night, and that really hurt the Cubs. Of course, all blame can't go on the umpire because Cubs didn't capitalize. However, looking back at that first inning, had Lester gotten the same borderline calls that Kluber was getting, it could have been a completely different ballgame. Bad umpiring isn't new news. The Cubs have seen it in every single series and almost in every single game this postseason.
Coming Attractions:
Jake Arrieta tries to even out the series for the Cubs and he'll be faced by Trevor Bauer. Arrieta is well-rested and ready to go. He suffered a loss in game three of the NCLS. The last time Jake faced the Indians was last season where he gave four runs over five innings. It's no secret that Jake has had control issues most of the season. He's going to have to do his best in the zone and make his best pitches against this extremely talented Indians offense.
The Indians will send their trooper Trevor Bauer to the mound. In game three of the ALCS, Bauer had to exit after two-thirds of an inning after a right pinkie injury opened up. He tried to pitch despite bleeding profusely from between  having 10 stitches on h profusely. *An important reminder*: Game two will be at 6:08 CT/7:08 ET. It was moved up an hour due to a threat of inclement weather. Be sure to tune in as the Cubs try to shift the momentum back to their side.