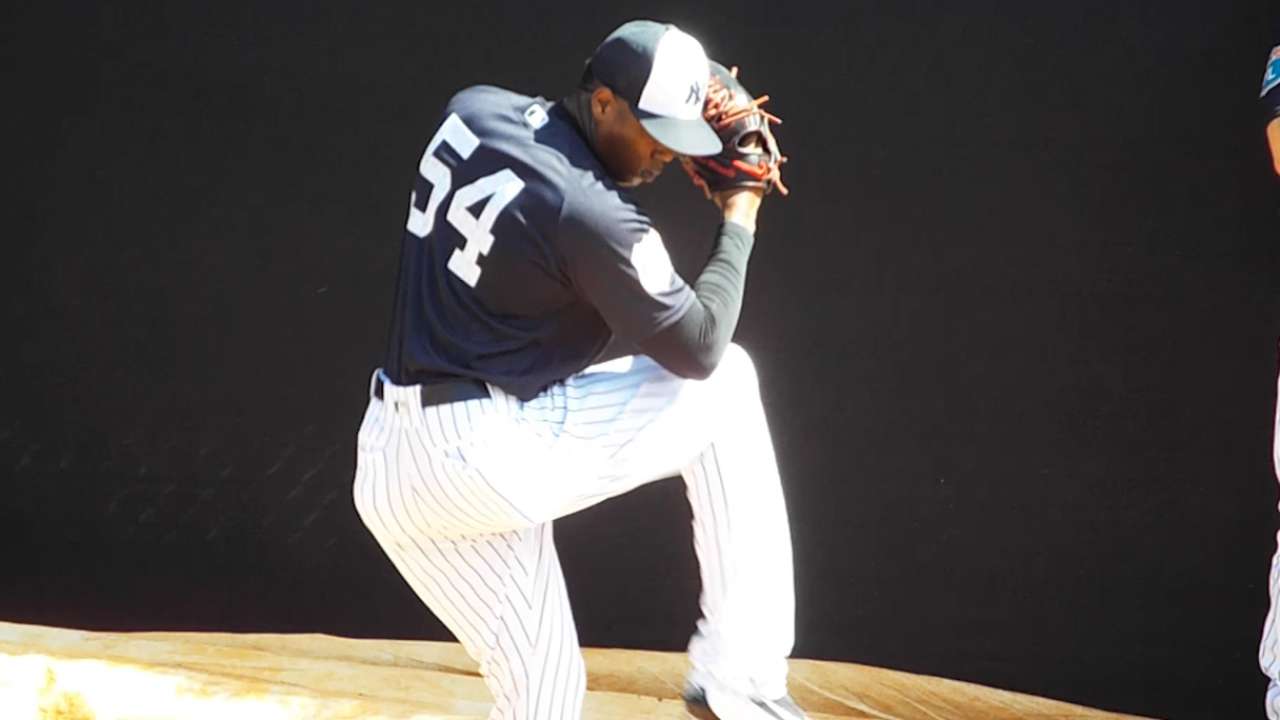 Aroldis Chapman's 30-Game Suspension Isn't Perfect, But It's a Good Start
This story originally appeared at Baseball Essential.
What if I told you a professional sport cared more about athletes popping pills than popping their spouses, or that shooting up with a syringe was a more egregious transgression than shooting a handgun in anger? Actually, you probably wouldn't bat an eye since, well, that pretty much describes every league in America. Well, maybe.
Tuesday's announcement that Major League baseball had suspended fireballing closer Aroldis Chapman for 30 games was the first example of the new domestic violence policy the league and union had agreed upon last year. According to the stricter guidelines, "The Commissioner will decide on appropriate discipline, with no minimum or maximum penalty under the policy."
So that's all well and good, but how many times have we seen other leagues whose policies and enforcement thereof were so flaccid and impotent they appeared to be in need of the ubiquitous blue bills being hawked during their broadcasts? Much of the toothlessness in the NFL's policy in particular stems from the frequent reductions and/or outright overturns of the commissioner's rulings. It figures then that more than a few might be skeptical when they read the language in MLB's DV policy that says, "Players may challenge such decisions to the arbitration panel."
Such a challenge, however, will not be forthcoming in Chapman's case, as he made clear in a statement Tuesday afternoon.
Today, I accepted a 30 game suspension from Major League Baseball resulting from my actions on October 30, 2015. I want to be clear, I did not in any way harm my girlfriend that evening. However, I should have exercised better judgment with respect to my actions, and for that I am sorry. The decision to accept a suspension, as opposed to appealing one, was made after careful consideration. I made this decision in an effort to minimize the distractions that an appeal would cause the Yankees, my new teammates and most importantly, my family. I have learned from this matter, and I look forward to being part of the Yankees' quest for a 28th World Series title. Out of respect for my teammates and my family, I will have no further comment.
Call me crazy, but I'm reading something along the lines of, "I'm not really guilty of anything other than making a bad decision or two, but since an appeal would be more of a hassle than just accepting the suspension, I've decided that discretion is the better part of valor." Par for the course though, I suppose. I mean, you can't exactly expect a guy to just come out and proactively admit to any serious legal transgressions.
And who knows, maybe Chapman really didn't choke his girlfriend or turn his garage into an impromptu shooting range. There are, after all, no witnesses who are able to corroborate the allegations against Chapman, nor was there enough actionable evidence to lead to formal criminal charges. Common sense and the ability to discern a duck based on the way it walks and talks, however, allowed Rob Manfred and Major League Baseball to levy punishment the legal system could not.
But while he had power to suspend the Yankees closer for any length of time, the commissioner opted for 30 games, only 60 percent of the penalty for first-time PED users. Even so, Chapman will miss one-sixth of the 2016 season, a not-insignificant amount. Or is it? After all, suspensions work a little differently for pitchers than they do for hitters. To wit, consider that through the Reds' 30th contest in 2015, Chapman had only made 13 appearances. The Yankees only used closer Andrew Miller 15 times during that same period.
Then there's the matter of service time, that unique and powerful currency of Major League contracts. Had Chapman been ruled ineligible for 46 games or more during the 2016 season, his free agency would have been delayed by an entire year. The hurler is going to lose $1.7 in salary as a result of his punishment, but do you think we'd have been reading the above statement had a 50-game cool-off prevented the most feared pitcher in the game from cashing in on the open market this offseason? Yeah, me neither.
Manfred predictably avoided acknowledging any such factors in his own statement regarding the thought process behind the 30-game suspension
I asked my staff to conduct a comprehensive investigation of the incident involving Aroldis Chapman on October 30, 2015.  Much of the information regarding the incident has been made public through documents released by law enforcement.  Mr. Chapman submitted to an in-person interview with counsel present.  After reviewing the staff report, I found Mr. Chapman's acknowledged conduct on that day to be inappropriate under the negotiated Policy, particularly his use of a firearm and the impact of that behavior on his partner.  I am gratified that Mr. Chapman has taken responsibility for his conduct, that he has agreed not to appeal the 30-game suspension, and that he has agreed to comply with the confidential directives of the Joint Policy Board established under the parties' Policy to ensure that a similar incident does not occur in the future.
As he weighed the options before him, Manfred knew full well that he was operating without a precedent and that the last thing he could do was incite a donnybrook with the players union. In going with the middle-ground punishment, baseball's boss took somewhat of a two-strike approach, opting to simply reach base safely rather than swinging for the fences. I'd attempt to make further use of this metaphor, but I fear too many of the expressions traditionally associated with it would make for incredibly obtuse puns given the nature of the topic at hand.
So if this particular punishment feels a bit hollow, consider the role it plays in the further implementation of baseball's stronger stance against domestic violence. You see, Chapman's service time isn't the only bit of nuance involved here. The commissioner has yet another case on deck involving the Rockies' Jose Reyes, a man who was arrested and who is scheduled to go on trial in Hawaii April 4th on charges that he assaulted his wife. Between the actual legal proceedings and the fact that the commissioner is no longer operating without a net, it's not unreasonable to believe we could see a penalty of 100 games or more.
My friend Julie DiCaro wrote back in January that MLB might be the league to get domestic violence right, and I believe Tuesday's ruling was a step, albeit a tentative one, toward bringing her hope to fruition. Not a month before, I had shared some of my own thoughts on the subject, writing of the role sports play in eliminating this scourge.
Most of all, I hope that the bright lights of publicity will force all of us to look at the reality of domestic violence in the world around us, whether in sports or otherwise. This isn't a baseball problem and it's not a sports problem. It's a human problem. And last I checked, we're all human. Well, most of us. I'm not naive enough to believe that MLB can cure the insidious disease of domestic violence, but I guess I am naive enough to think that baseball, not to mention those of us who love and support it, can indeed make a difference.
If Major League Baseball can prevent even one future incident, can save a single victim, it'll be so much bigger than any save Aroldis Chapman notches on the mound.