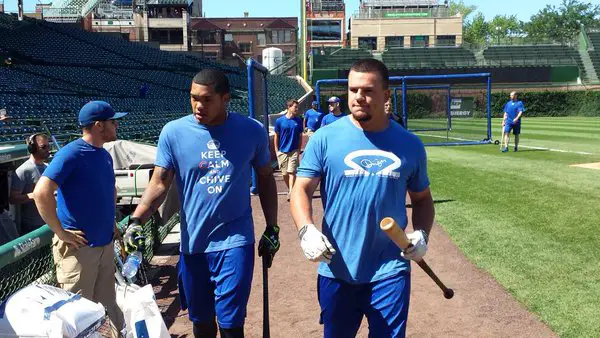 Cubs Asking Addison Russell to Mature Off the Field as Well as On
Given his precociousness and how seamlessly he transitioned to The Show, it's easy to forget that Addison Russell is still little more than a kid. Only a month or so removed from his 22nd birthday, the Cubs shortstop has an easygoing demeanor with fans and the media and appears unfazed by the limelight into which he's been thrust. He seems to glide around the diamond effortlessly, the responsibility of playing the role of defensive anchor no more a concern than the dirt he brushes from his jersey after yet another spectacular diving play.
But what's a soiled jersey compared to a dirty diaper? Russell has already become a dad twice over and even got married on January 10, steps many of his fellow phenoms have yet to take. Heck, I got married at 26 and became a father at 27 and I still look back at times and think I was too young. Russell projects an air of preternatural maturity that stands out even as he's surrounded by a group of young players who all carry themselves similarly.
But as the Twitter caveat du jour warned Wednesday morning, most of us don't know who these players really are. Their teams do, though.
That's why, as Russell and the Cubs prepare for a season in which expectations and observations are going to be at an all-time high, it's not only the shortstop's offensive stats the organization is hoping will improve. At the same time the rising sophomore is toning up in order to be in the best shape of his life, I'm told the Cubs have spoken with their young star about toning it down when it comes to his participation in the nightlife scene and the so-called bro culture.
It's no secret that Russell has an affinity for The Chive, a humor and lifestyle website that has become an absolute cultural phenomenon over the last decade or so. It's spawned a veritable empire that includes ubiquitous t-shirts (which seem to be the quickest path to world domination — buy my shirts!), several URLs, a legit 501(c)(3) non-profit charity, a brewery partnership, a concert series, and dozens of individual chapters across the world. Seriously.
While there's an obvious visceral appeal to a site that aggregates hilarious videos and fail-photo listicles, wedging them jauntily between slideshows of young women in their underwear, I'm at a loss to explain the intense devotion The Chive has engendered. I have no doubt the legions of followers proudly rocking Keep Calm and Chive On shirts or KCCO window stickers could better articulate their allegiance, but I just kinda #ShrugEmoji.
This isn't a knock on a particular site, though certain aspects of dude-bro-ness — particularly the less savory ones fomented by the lowest common denominator and then attributed to the whole — have been understandably vilified. I actually went to college with one of The Chive's founders, had several classes with the guy, and have always respected his intellect and sense of humor. I even got involved in a cause their charity promoted that involved building a baseball field and splash pad for mentally and physically handicapped kids who wouldn't otherwise have the chance to participate in a sport we all love.
Still, what some view as a completely innocuous outlet for guys and girls alike who just want to have fun and not take themselves too seriously, others might view as a slippery slope.
Admittedly, I'm one of the last people who should be lecturing guys in their early 20's about not bro-ing down and being frat-tastic, but I'm not the one telling Russell what to do. The Cubs are fiercely protective of their brand, and that goes for both the baseball and business operations sides. If they feel that a player's extracurricular activities could have even the slightest impact on either of those interests, you know they're going to step in.
We've come a long way from Mark Grace governing local bar patrons as the de facto Mayor of Wrigleyville, indulging in booze and slump-busters with impunity. Once upon a time, those exploits were only relayed through hearsay, often by the main character himself. But the all-seeing eye of the mobile phone isn't quite as forgiving as star-struck post-game revelers or journalists who know the deal and are more than happy to look the other way.
You might think it's unfair for the Cubs to have a tête-à-tête with a player who hasn't done anything more excessive than what you'd expect of a guy his age. You might also feel that the rising tide of social justice is unfairly targeting outlets like The Chive or Barstool Sports for what you view as harmless fun. Again, I'm not here to engage in a definitive discourse on those topics, though many have and will. I'm just here to say that the Cubs know they should be able to compete for all kinds of titles in the next handful of years and that they fully expect Addison Russell to be in the middle of that success.
Russell got the shortstop job solely due to performance, both the excellence of his own and the erratic nature of his predecessor's. But while the numbers — and perhaps the shush meme — will be Starlin Castro's legacy in Chicago, it'd be unwise to completely overlook his off-the-field issues in light of the Cubs' advice to his replacement. Much like Russell, Castro came up young and was thrown right into the giant fishbowl that is Wrigley Field. While nothing ever stuck, there was a sexual assault allegation very early in Starlin's career and, more recently, a pair of shooting incidents to which he was linked.
Roger Goodell will tell you that bad things can happen while you're just sitting on the couch, but I'm willing to bet that a pretty fair number of the athlete-related issues we hear about involve late nights and clubs.
Russell's activities probably can't rival Gracie's, but he's not exactly been a stranger to the bar scene either. Even as far back as 2012, the then-18-year-old was known to share a few beverages with the locals at the conclusion of a game. I'd be lying if I said I'd never done the same — though Shipley's in Madison, IN wasn't exactly a desirable place and no one there knew who I was — so this isn't some kind of exposé. Rather, I'm pointing out that Russell still has the same temptations of youth, only amplified by the accommodations of being a stud athlete with plenty of enablers.
As such, I'd speculate that the Cubs are merely offering a little life and career guidance to their burgeoning star. I don't think they're trying to completely prevent him from enjoying the trappings that come from being young and rich and popular in a city that has long been a playground for the young and rich and popular. I do think, however, that the organization is going to do all it can to prevent Russell's name from being added to the crowded roll of those athletes — from the irritatingly douchey Ian Stewart to the drunkenly idiotic and allegedly predatory Patrick Kane — who have handled their fame and fortune with less than sufficient sangfroid and judiciousness.
If all goes according to plan, these 1,300 words or so will represent the entire life cycle of this particular "issue." Russell will go on to the All-Star career foretold by his immense talent and someone will tweet me several months from now to tell me what a terrible person I was to cast even the slightest of aspersions on the kid. I really believe this young man has what it takes, both mentally and physically, to be a superstar. The Cubs feel the same way, which is why they traded for him and promoted him ahead of schedule.
And it's why they had a little talk with him, not so much because they fear the worst, but because they know how hard it is to truly be the best.