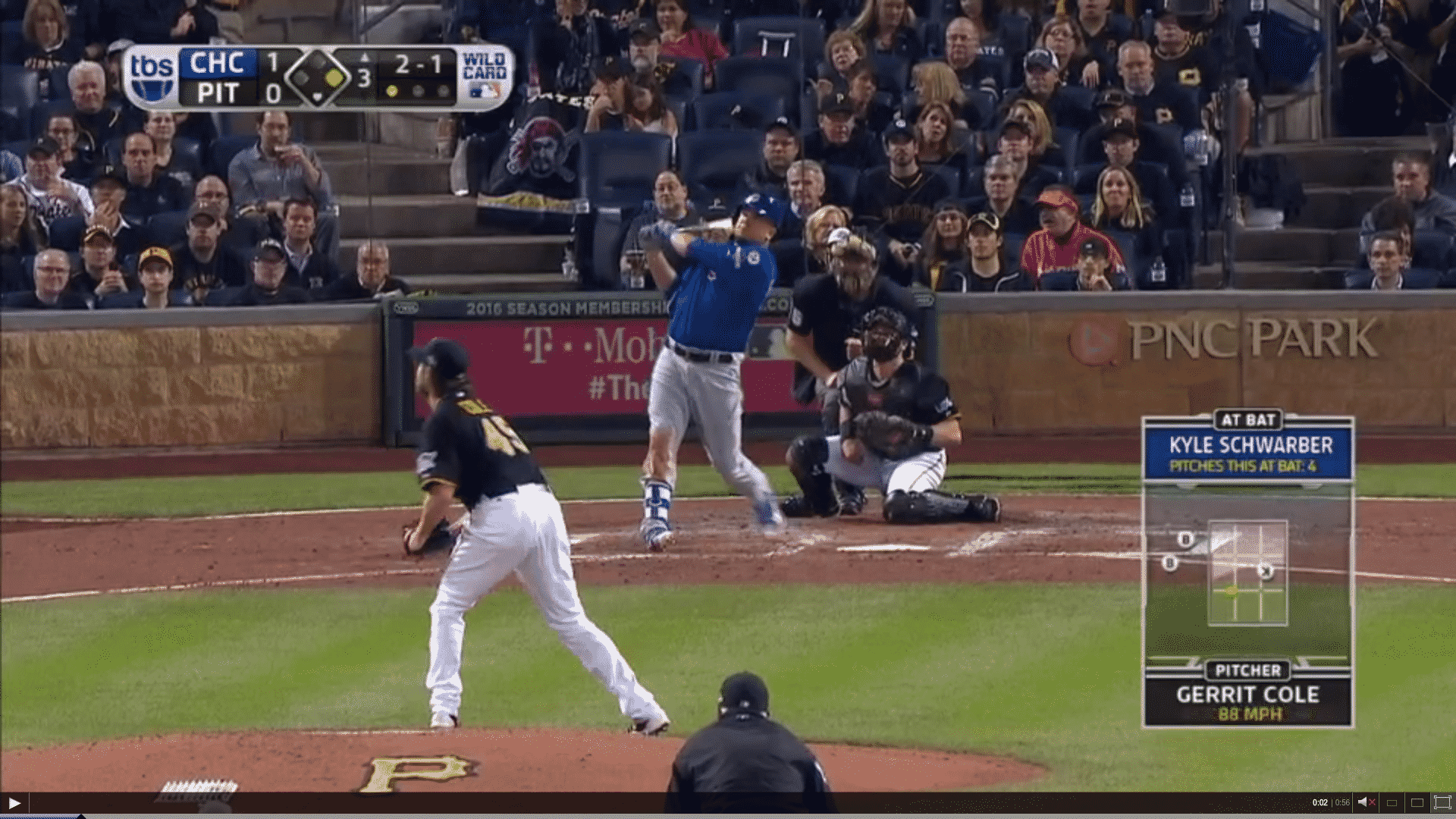 Buster Olney Talks Cubs, Says Kyle Schwarber 'Reminds Me of Tony Gwynn'
To be fair, Buster Olney spoke sparingly of the rookie slugger and provided some qualifiers for the titular comp, but putting anyone in the same sentence as one of the greatest hitters of all time is incredibly high praise and deserves to be used as click-bait. Appearing on the Dan Dakich show on Friday, Olney had all kinds of great things to say about the Cubs in general, much of which I've detailed below, but it was the talk of Schwarber that capped everything off.
A rabid Cubs fan, Dakich had Olney on specifically to talk about the latter's assertion that the North Siders should be the best team in baseball in 2016. I don't normally get to listen the show, which runs from 12 – 3 pm ET, but an early dismissal from work proved serendipitous in this case. Love him or hate him — while I don't always agree with him, I love him and have received a great deal of support from him, but Dakich, by his own admission, can be a jackass and understands that some may view him as such — it's cool to see someone tied in to the national sports scene still able to be giddy over his favorite childhood team.
It's also cool to hear a baseball guy who's responsible for covering all of MLB talking about some of the very same things we Cubs fans/writers have been saying about the group Theo Epstein and Co. have assembled. And I don't just mean the obvious additions and what they bring to the team from a statistical standpoint. A lot of what I've written about, and what has been at the heart of many conversations throughout Cubdom, is how well the new players fit with the guys already on the roster.
This isn't a concept unique to the Cubs, of course. At almost the exact same time Olney was talking Cubs, Jon Paul Morosi published a column for FOX Sports extolling the virtues of the Kansas City's makeup. "Sorry, free spending GMs," the headline read, "but you can't buy the chemistry the Royals have created." You can, however, develop a young core and supplement it with the right complementary players. One such player was brought in to help KC hoist the Commissioner's Trophy and is now part of what the Cubs hope will be a similar outcome in Chicago.
[Ben Zobrist is] as sincere and genuine a person as I've ever met in baseball," Olney gushed. "The moment that I heard that he was gonna sign with the Cubs, my first thought was, 'My goodness, will he and Addison Russell, who's known as a very serious young player about his craft, and Anthony Rizzo and Kris Bryant, those four guys in the infield are gonna have so much fun playing together 'cause they're very similar in their approach.'"
There's that theme of fun again, only it's not coming from someone with a vested emotional interest in what's going on at 106o West Addison. Sure, the Cubs being successful is good for baseball and for viewership, which is good for Olney, but there's more to it than that. Joe Maddon's crew should be a pretty enjoyable watch for pretty much everyone outside of St. Louis and Pittsburgh. I was thinking there were two other NL Central cities that'd be somewhat non-plussed too, but I'm drawing a blank on their names at the moment. Then again, maybe some of those fans are going to want to consume decent baseball this season.
You can listen to the entirety of Olney's appearance on The Dan Dakich Show here: 
https://soundcloud.com/dandakich/012216-busterolney-dandakich
Of course, signing the Zorilla meant getting rid of a fan favorite, so Dakich questioned his guest on the Starlin Castro trade, a move Olney agreed had been pretty much inevitable for some time.
"I think the Cubs did a good job of moving his contract coming off how well he played in August and September," Olney explained. "And, you know, let's face it, they kinda dressed up for public consumption, I think, how well they thought he was defensively. They probably dressed up as well concerns that they may have had about him just, kinda, the life going out his body. It seemed like he was just aging faster than a lot of guys do."
I don't know if I'd go so far as to say that that's a revelatory statement, but it certainly adds even more credence to the idea that the Cubs actually got a really good haul for Castro. Never a speedster, it's reasonable to assume that they felt he'd be facing a pretty rapid diminution of ability due to age. Olney mentioned that this was a pretty common belief among other teams and surmised that perhaps playing so much at a young age had contributed to it.
While he certainly didn't mention Castro specifically, Maddon talked at CubsCon about how the year-round baseball calendar in Latin America can produce smarter ballplayers, but he also said they need to dial things back once they come to the States.
As for dialing things back, well, that's not really something we'd say about the payroll. The Cubs were obviously very aggressive in free agency, with their new center fielder (?) at the forefront of the fuss. But how the outfield shakes out is still a little up in the air.
"Jason Heyward is Exhibit A for how baseball defensive metrics have advanced that teams can evaluate players better in that regard than they ever had before," Olney pointed out. "And they're paying him because of his defense. Billy Beane once said to me, 'Hey, if you can save a run defensively, it's the same as hitting a home run.' And Jason Heyward saves a lot of runs with his defense.
"I'm curious to see what happens with Fowler," the scribe admitted, "and whether or not the market drives him back to the Cubs where he comes in waving his white flag and says, "Look, I'll take a one-year deal. Let's work something out.' If that's the case, you put Fowler in center field, you put Jason Heyward in right, and you're probably taking offers for Soler. [But] if you were to actually move him now, you're probably getting 75 cents on the dollar."
That's pretty much what I've said in the past, that signing Fowler is a bad idea at least in part because it decreases the Cubs' leverage in trading Soler. One of the big reasons for the crowded house in the outfield is the presence of Kyle Schwarber, a young man whose future has yet to be determined but who looks to be a mainstay in left field for the time being.
"He will be a good outfielder eventually," Olney proclaimed. "The physical limitations are there. But let me tell you something…when you listen to his passion and his understanding of the intricacies of hitting, he reminds me so much in the way that he thinks — I'm going to make this very clear, I'm not comparing him to this player — but in the way that he thinks, of another player that I covered 20 years ago: Tony Gwynn.
"This is someone who is devoted to getting better."
That's some good stuff right there. I think we'd all be pretty happy with War Bear just ending up as a serviceable anything defensively, whether that's in left or behind the plate. And while some might disagree with me here, I'm convinced the guy has the requisite athletic ability to make it happen. He didn't really get much instruction in college on the real intricacies of being a catcher, but the Hoosiers didn't get him much time anywhere else, either. With time and reps, not to mention an intense desire to improve, Schwarber's gonna be just fine.
Being as laser-focused on the Cubs as I am, I often wonder whether I've got too much inherent bias to provide a fair assessment of the team's players and projections (though I think I generally do a pretty good job of tempering emotion with objectivity). Maybe that's why I was so taken by what Olney had to say on Dakich's show. I mean, this isn't just some guy struggling to rid his site of pop-up ads that hijack the user experience or who gets kicked out of the media interview room at CubsCon. And here he is saying that the Cubs are going to have fun while being really, really good and that Kyle Schwarber's makeup reminds him of Mr. Padre. I can't lie, friends, I'm getting a little tingly just thinking about it.
Is it time for Spring Training yet?