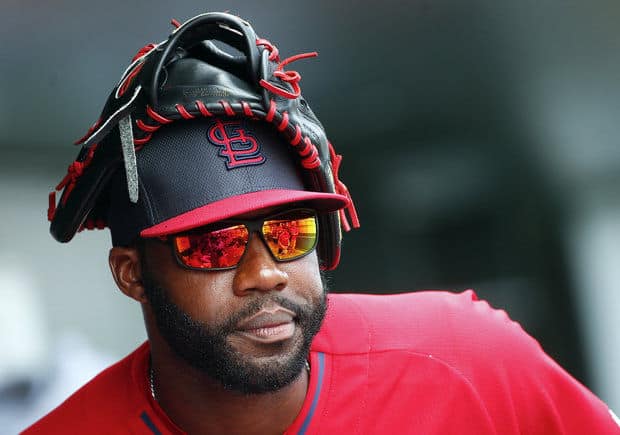 On the Philosophy Behind the Heyward Signing and What it Says About 'The Plan'
There have been a lot of takes flying around, some of which I agree with and some of which, well…let's just say I felt compelled to take out my stick and swing at this here horsey a few more times. This isn't so much a response to any of those who've compared the Jason Heyward signing to that of Alfonso Soriano or to those who've lamented what they perceive to be the Cubs bailing out on the wave of youth they surfed so successfully last year as it is an answer to a question I posed the other day. I wondered whether the Cubs' purported (at the time) interest in Heyward was just a potentially expensive game of chicken or whether it was legit.
Some writers, including some local well-connected beat guys, were saying that the Cubs had been targeting Alex Gordon the whole time and were feigning interest just to drive up the price for the Cardinals. Others said the team really was hot after Heyward and that they had gone to the business side for extra money to make it happen. I came down somewhere in the middle, assuming that the Cubs would give Heyward a competitive pitch and would be happy either acquiring him or forcing a competitor to pay a boatload to do so themselves. Now that the dust has settled and Heyward is a Cub, I wanted to address how his signing fits with the philosophy the Cubs have established under Theo Epstein and Jed Hoyer. Because it does fit, and quite well.
Because I already went a bit long in an earlier piece about the various scenarios for how Heyward may perform relative to his deal, I'll try to better organize my thoughts in a more succinct piece. No promises though.
On the Soriano comp
Yes, both Jason Heyward and Alfonso Soriano agreed to what were, at the time, the most expensive free-agent contracts in team history. Yes, both played the outfield. Yes, the Nationals were involved with both. But those anecdotal similarities are where the accurate comparison between these two ends
Soriano, whose career is often unfairly viewed by Cubs fans, was 31 when he signed his megadeal. Heyward is only 26. Soriano was coming off of a 40/40 season with the nationals and was being counted on to continue performing as one of the game's preeminent sluggers. Heyward is coming off of a 12/23 season and is being counted on to continue performing as a contact hitter and one of the game's preeminent glovers.
Where the two players do dovetail again though is in the idea of hype, particularly in not living up to it. But hype is just that. It's not real and it's quite often unfounded and perpetuated by those who just don't know any better. Because he came up through the Braves organization, Heyward was likened to Hank Aaron and, well, good luck living up to that. But now he's getting money Hammerin' Hank could never have dreamed of and people are wondering whether he's worth it.
On being worth the deal
A lot of people see a giant contract and they immediately want to compare it to other deals by using the fallacious logic that someone is overpaid because he's making more money than better players. Highest paid doesn't mean a guy's got the most talent though, just that he's got the best timing. Remember back in '92 when Ryne Sandberg made the cover of Sports Illustrated for signing baseball's richest contract? "Money Player," the title read, "$7-Million-Man Ryne Sandberg Is Baseball's Salary King – For Now."
It's really just a matter of time and inflation, as Eric Kabakoff lays out in a nice piece over at Baseball Essential on the history of baseball's huge free agent contracts if you'd like to see more. And if that doesn't help you make sense of it, think about this deal like the car you loved back in the day versus the family sedan you tool around in now. My dad used to drive a Gran Torino with a white stripe, just like Starsky and Hutch. Now he rolls an F-150, which is a really nice truck but nowhere near as sexy. Cost him a lot more money though. The same is true of ballplayers, who are going to get paid based on the market and its inflation over time. And $184 million isn't going to look that big when Bryce Harper and Mike Trout destroy that total.
I had a little on what Heyward needs to do to "earn" the money the Cubs have offered him at the end of my article following his agreement to sign and it's really not that much. But really, if you're looking at this as an investment in a single player, I think you need to shift your perspective.
On Heyward as a glue guy
If you've read or listened to me before, you know that I'm big on both stats and personalities. Jason Heyward is a guy who brings plenty of both, but I think his particular skill set makes him something of a statistical "glue guy." In using that term in that manner, I'm sort of repurposing from the more traditional sense. Most glue guys are people like Jason Motte or David Ross, little-used players who nonetheless impact their team with personality and leadership. But in Heyward, I see a guy who really helps to complete the Cubs' puzzle (see, I got back to answering my question from last week's post I linked to earlier).
I'm not a big puzzle guy, but I have put together a few in my life. In fact, we've got two (a Marvel character puzzle that we put in a shadowbox with some figurines and an International Harvester puzzle I got for Christmas a couple years ago) hanging on our walls. In order to keep the pieces static and preserve your painstaking assembly, you need to apply a good helping of puzzle glue. This adhesive liquid not only fills small gaps and binds the various pieces together, but it provides a protective sheen as well.
That's exactly what Heyward — and Ben Zobrist too — does for the Cubs. His skillset should fill in gaps in both the lineup and the defense and his personality, at least from what I understand, is one that will blend in seamlessly while giving the team just a bit more sparkle. He's a solid presence in the midst of a few peak-and-valley youngsters, a still-young veteran who knows where they've been and wants to help take them where they want to go. And it's here that the signing of Jason Heyward fits perfectly with The Plan, the Cubs' strategy that, writ large, aimed to carry the team to years of consistent competitiveness.
---
So yeah, we could talk about the Cubs unloading wheelbarrows of cash on Jason Heyward. That's not not true. But rather than view this most recent addition as a massive line-item in the ledger, I prefer to view it as a large investment in the overall health of the team. I know I've already gone over the self-imposed word limit, but I'm feeling the need to provide just one more analogy for you.
At the time my son was born, I was driving a truck. It had the full-size cab with four doors, but wasn't really ideal for toting two kids around and dealing with carseats and all that, so I looked to trade it in. Thus, I drove home with a used sedan that had a bit more room in the back and a trunk that could easily fit the growing glut of toys, diapers, etc that we had to drag along each time we left the house. Sure, it helped that my new car had only 20,000 miles and was powered by a 340-horse, 5.7-liter, V-8 Hemi engine. But the point is that my purchase was at least as practical as it was visceral.
In signing Jason Heyard, the Cubs are getting a guy with very few miles and who's about to enter his prime. He's far from cheap, but he's incredibly practical in terms of making the team better. So this wasn't just about the front office splurging just because they were able to. Rather, it was about them pumping additional resources into a player who they truly believe will make the team better. And if — regardless of how good a team looks on paper, winning is always an if — the Cubs win a World Series, that $184 million will look like a pittance.