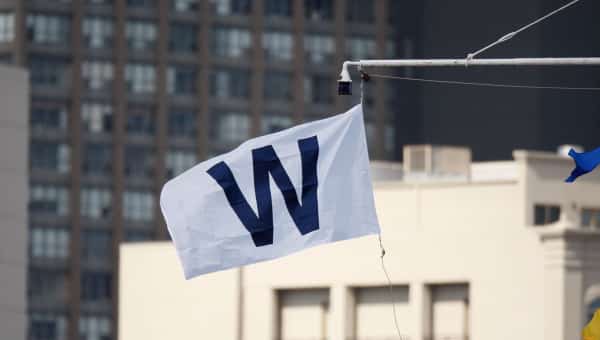 A Tip of the Recap – September 29th
The Cubs put 4 runs on the board in the first inning and Dan Haren was terrific in a 4-1 victory over the Reds tonight.
The Good
Dan Haren was about as good as he has been all season (Marlins included) on Tuesday. He went 7.1 innings, giving up 0 runs on just 3 hits with 0 walks and 6 Ks to earn his 10th victory of the year and lower his ERA to 3.67. He was making his first start since September 18th and I would think this performance would keep him in the discussion for the post-season rotation if the Cubs make it to the NLDS.
The Cubs' offense did all their work done when they sent 8 men to the plate in the first inning. Tommy La Stella hit a sac fly with the bases loaded to get the first run home. La Stella is now hitting .262 with 10 RBI and is hitting .308 this month with 9 RBI.
Miguel Montero kept the merry-go-round going with a 2-run double (11th double, 52nd and 53rd RBI). He later added a single and 2 walks to reach base 4 times in the game.
Javier Baez drove in the 4th run of the inning with an RBI single to RF that was misplayed by Jay Bruce (2 errors on the play), allowing Baez to make it all the way to 3rd. Javy is hitting .279 with 4 RBI and has a K% of only 26.4% (small sample size, but still much improved).
Kyle Scwharber always seems to hit well in Cincinnati and Tuesday's game was no exception. He went 2 for 3 with a couple singles and 2 walks to reach base 4 times. He is only hitting .247, but his OPS is still a very robust .859 on the year.
Anthony Rizzo joined the 30-30 club, just not the one you'd normally think of. When he was hit by a pitch in the 1st inning it gave him 30 HBPs to go with 30 HRs, making him the first NL play and second player ever to join this painful club with Don Baylor (who did it in 1986 with Boston).
Dexter Fowler hit a single in the top of the first to get the offense started and came around to score on La Stella's sac fly. It was his 100th run scored making him the first Cub to score 100 runs since Mark DeRosa in 2008.
The Bad
The Cubs had to endure over a 2 hour and 30 minute rain delay to get this game in, so that made for a late night. It appeared that somewhere around 3,000 fans stayed to watch the game (maybe fewer), so it had a weird feel to it. But the Cubs won and no one got injured in the process.
On Deck
Game 2 of the series will be tonight at 6:10 PM (CST) on WGN. Jon Lester (10-12, 3.43) will make his final start of the regular season as he faces off against Anthony DeSclafani (9-12, 3.91) for the Reds.