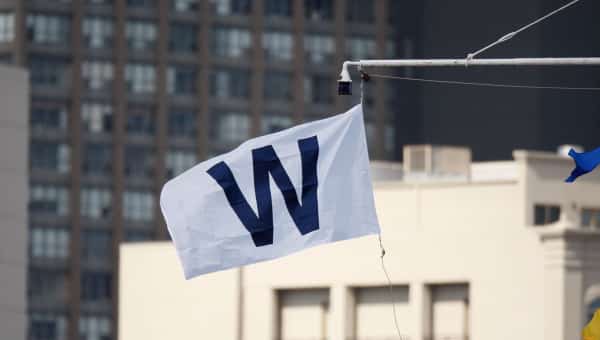 A Tip of the Recap – September 28th
Chris Denorfia sent Cubs fans home happy with a walk off solo HR in the bottom of the 11th to give the Cubs a 1-0 victory over the Royals tonight.
The Good
The Cubs' pitching was outstanding from beginning to end in tonight's game. Kyle Hendricks got the start and pitched one of his best games of the season. He went 6 shutout innings, giving up just 2 hits and 2 walks with 9 Ks. He worked quickly and really was never in any trouble at all. He lowered his ERA to 4.09 and will get the Brewers later this week.
The pen was about as solid as Hendricks was tonight, combining for 5 scoreless innings of work and  giving up 2 hits and 1 walk with 5 Ks. Trevor Cahill pitched the 7th and 8th and struck out 3, surrendering a single but getting a double-play from the next batter. Clayton Richard and Hector Rondon tag-teamed the 9th with Rondon giving up an infield single to Cain, but he promptly picked him off of first.
Pedro Strop looks locked in, walking 1 and striking out 1 in his scoreless frame of work before giving way to Fernando Rodney in the 11th. Rodney was about as good as I have seen him in a Cubs uniform. He pitched a perfect inning with 1 strikeout on a filthy changeup, earning himself the win (7-5 on the year).
Chris Denorfia was the hero with the bat though, entering the game in the bottom of the 11th as a pinch hitter and depositing the walk-off HR into the LF bleachers. It was his 3rd HR and his 2nd walk-off AB of the year (the other being a sac fly against the Dodgers in June).
The Bad
There was nothing bad about this game and it may have been the best-pitched game I have seen from someone not named Jake Arrieta. Every single guy got their job done tonight and it was a total team effort from the pitching staff. The Pirates lost tonight as well, so the Cubs gained a game on them for a chance to host the wild-card game on October 7th.
On Deck
The Cubs head to Cincinnati tomorrow for a 3-game series with the Reds. Game 1 starts at 6:10 PM (CST) on CSN tomorrow night. Dan Haren (9-9, 3.83) will make his first start since the middle of September for the Cubs as he faces off against Josh Smith (0-2, 7.23) for the Reds. At this point the Cubs need to pretty much win out to even have a shot at catching the Pirates. Luckily they finish with 3 against the Reds and 3 against the Brewers (though both teams have given the Cubs trouble this season).