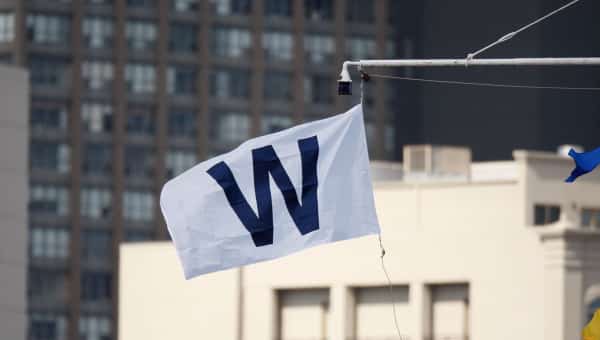 A Tip of the Recap – September 17th
The Cubs took the final game of their 4-game series with the Pirates and are now just 2 games back for the first wild card spot after winning by a score of 9-6 today.
The Good
The Cubs pounded out 17 hits today, with every player that had an at-bat getting at least 1 hit except for Kyle Hendricks, Travis Wood and Austin Jackson.
Anthony Rizzo, Addison Russell, Tommy La Stella, and even Clayton Richard each drove in 2 RBI. Rizzo did his damage with a 2-run HR (his 30th) on a pitch that he had no business hitting out of the ballpark. He finished the day 2 for 4 and is now hitting .278 with 92 RBI.
Addison Russell hit an RBI double (26th double) and an RBI single in his 2 for 4 day. It appeared that the day off did him well yesterday and he is now hitting .241 with 49 RBI on the year.
Tommy La Stella is really putting together good ABs since coming off a nearly season-long DL stint with an injured oblique. He was 2 for 4 today with an RBI double (4th double) and an RBI single. He is up to .233 and has driven in 6 runs now.
Clayton Richard entered the game for Kyle Hendricks in the 4th inning and in addition to pitching effectively and earning the win, he also contributed with the lumber. He went 1 for 2 with a 2-run double in the Cubs' 6-run 5th inning. Pitching-wise he threw 3.1 innings of solid relief and was charged with 2 runs (both earned) on 4 hits as he improved to 4-2 on the year with a 4.15 ERA.
Kris Bryant had another big day at the plate with a 3 for 4 day that included 2 doubles and a run scored. He now has 28 doubles on the year with his .274 AVG and has back-to-back 3 hit games. He really has turned it on this month, hitting .339 in September when most rookies are tiring out a bit.
Travis Wood was about as good as he has ever been today to close out the victory. He went 2 perfect innings with 5 Ks to earn the save (his 2nd) and was a suitable replacement for Hector Rondon, who was unavailable today after throwing so many pitches last night.
The Bad
Kyle Hendricks was not very good today and was again given a lead he could not keep. He turned a 3-0 lead into a 4-3 deficit in just 3 innings of work. In all, he gave up 4 runs (all earned) on 6 hits (3 HRs) with 0 walks (silver-lining?) and 5 Ks. His ERA rose to 4.22 and he has now given up almost a HR/9 innings pitches (0.94). I'm pretty certain at least 2 of the 3 HRs hit today were off of his sinker too, so maybe he needs a little more work on keeping that pitch lower in the zone. He will get the Brewers the next time out and hopefully will pitch better.
On Deck
The Cubs head home for a 10-game homestand as they welcome the Cardinals to town for 3. Game 1 will start at 1:20 PM (CST) on ABC 7 and the MLB Network. Dan Haren (9-9, 3.87) gets the ball in game 1 against Lance Lynn (11-10, 3.17) for the Cards.