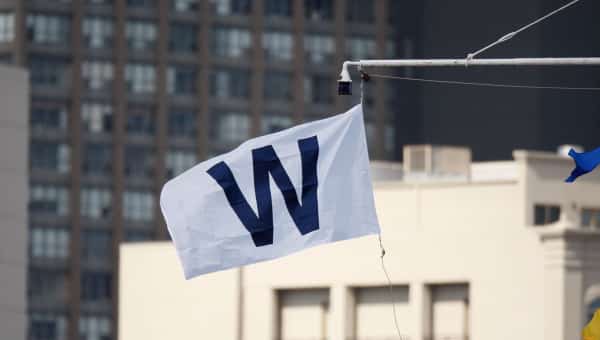 A Tip of the Recap – September 11th – Game One
The Cubs took the first game of the double-header with the Phillies behind a strong performance from Jake Arrieta by a score of 5-1.
The Good
Jake Arrieta wasn't quite as sharp as he has been the past month in a half, but he was still plenty good tonight. He went 8 strong innings and gave up just 1 run (earned on a solo HR) on 6 hits and 2 walks with 7 Ks (including his 200th of the year). He improved to 19-6 on the year and lowered his ERA below 2.00 at 1.99.
The Cubs bats were quiet for most of the first half of the game before striking for 2 runs in the 5th inning with 2 outs. Austin Jackson and Kris Bryant each hit run-scoring doubles with it being Jackson's 22nd double and 40th RBI, while Bryant made some history with his 23rd double and 87th RBI (a new Cubs' rookie record for RBI in a season).
Addison Russell got in on the run-scoring-double party with a 2-run double of his own in the 6th inning. It was his 25th double and RBI number 45 and 46 to go with his .243 AVG.
Starlin Castro topped off the scoring with a solo HR in the 7th. It was his 8th HR and 53rd RBI to go with a suddenly respectable .256 AVG. I know he lost track of how many outs there were, but it didn't really turn into much of anything and he didn't let it affect his bat.
Dexter Fowler had a 2-hit day, going 2 for 5 with a run scored from the leadoff spot. He now has scored 91 runs and is hitting .255 on the year. It sounds like he will for sure get a qualifying offer from the Cubs this winter and hopefully something can be worked out for him to stick around with the Cubs next season and beyond.
The Bad
Nothing bad about taking game 1 of the double-header against a team that the Cubs should be beating. Hopefully it carries over into game 2 tonight and through the weekend as well.