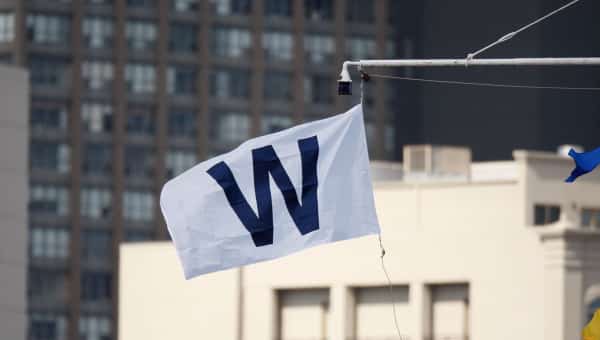 A Tip of the Recap – September 7th
The Cubs jumped out to a big lead early and Dan Haren pitched his best game as a Cub, leading to a 9-0 victory over the Cardinals in the first game of their 3-game series.
The Good
The bats were outstanding today as every Cub starter except Tommy La Stella got a hit and Dan Haren had his longest outing as a Cub. Starlin Castro and Chris Coghlan both had 2 singles and each scored a run.
Dexter Fowler got the party started early with a solo HR to lead off the game, then added a 2-run double in the 2nd to single-handedly give the Cubs an early 3-0 lead. It was his 17th HR and 26th double to go with 41 RBI and a .254 AVG.
Anthony Rizzo, Miguel Montero and Dan Haren each drove in run in different ways: a double by Rizzo (his 31st double, 84th RBI), a single by Montero (49th RBI) and a sac fly from Haren (5th RBI).
Addison Russell really put the game away early with his 3rd inning, 3-run HR putting the exclamation point on a 5-run inning for the Cubs. It just snuck out over the wall to CF and was his 13th HR, giving him 44 RBI with a .243 AVG.
Dan Haren was on point today and went 7 shutout innings, scattering 7 hits with 2 walks and 5 Ks. He improved to 9-9 on the year and lowered his ERA to 3.73 with today's masterful performance. This was the first quality start of Haren's Cubs career and it was his longest start since June 9th (when he was still with the Marlins).
Carl Edwards Jr. (formerly known as just CJ) made his big league debut and walked the first guy he faced, but induced a double play on the next hitter and got the final guy on a grounder to pitch a scoreless inning of relief in his debut. He has some real nice natural run on his pitches, which move away from the right-handed hitters. It will be interesting to see what kinds of situations he will get to pitch in over the remainder of this month.
Zac Rosscup was recalled today as well, getting into the game in the 9th and pitching a scoreless inning to finish out the game. He actually struck out 3 batters (with one reaching on a wild pitch) and almost got the 4th K of the inning to end it, but had to settle for a ground out to end things. He has a real chance to play a big part in the pen as a lefty that Maddon can depend on, though he had some chances earlier this year and had his struggles.
The Bad
Nothing bad about today's game at all; bats did some big things early and Dan Haren did good things all afternoon. In addition to that, the Nationals and Pirates both lost and the Giants are down early to the D-Backs, so a real chance to gain games on pretty much everyone that matters at this point.
On Deck
Game 2 will be tomorrow evening at 7:15 PM (CST) on CSN. Jason Hammel (7-6, 3.55) gets the nod for the Cubs in a tough matchup against Michael Wacha (15-4, 2.69) for the Cardinals.