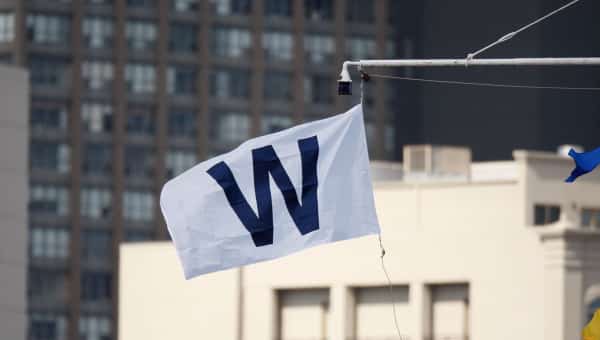 A Tip of the Recap – August 23rd
The Cubs powered their way to a 9-3 victory over the Braves today, hitting 5 HRs behind a strong performance from Jason Hammel to sweep the Braves and go 20 games over .500.
The Good
It was a laser show at Wrigley today with the Cubs hitting 5 HRs (4 of which were opposite field shots).
Kris Bryant had the best day at the plate though, going 3 for 4 with 2 HRs and 3 RBI and 4 runs scored. His first HR was a 2-run opposite field shot to RF while his second one was a towering shot to dead center that just snuck into the basket. For the year, Bryant is hitting .262 with 19 HRs and 74 RBI; yeah the kid can play a bit.
Dexter Fowler hit a leadoff HR in the bottom of the 1st to get the party started. It was his 14th HR of the year and is now a new career high with 38 games yet to be played. I hope the Cubs can find a way to bring him back to man CF again next year; he has been relatively healthy all year and his defense is not nearly as bad as advertised (0.8 UZR this year against -21.8 last year).
Kyle Schwarber also got in on the HR party with his own solo shot to LF in the 2nd. It was his 11th HR and his only hit in 5 trips to the plate. He has hit just .250 through August so far and has seen his AVG drop down to a still respectable .284.
Miguel Montero had a real nice day at the plate and, really, a great series as a whole against the Braves. Today he was 1 for 2 with 3 walks, and the hit was a 3-run HR to LF in the bottom of the 3rd. It was his 13th HR and he has now driven in 41 on the year with a .239 AVG and .774 OPS.
Jason Hammel looked solid today and had his longest start since July 3rd. He went 6.1 innings and gave up just 2 runs (both earned) on 6 hits (1 HR) and 1 walk with 8 Ks. He needed 104 pitches to get the 19 outs and improve his record to 7-5 on the year. Hopefully this will get some good mojo going forward, as the Cubs really could use a solid 3rd starter behind Jon Lester and Jake Arrieta.
The Bad
There was nothing bad about this display of power from the Cubs today. It was good to watch a game and not have to worry about the outcome for the entire game as they jumped on Wisler early and often, while Hammel closed it down for most of the game.
It is also great that they Cubs are beating the teams that they are supposed to be beating and still playing well against better competition as well (though the Tigers 2 game series was a bit rough). Either way, 20 games above .500 is pretty impressive and I hope they can keep it up on this tough west-coast trip this week.
On Deck
The Cubs will host the Indians tomorrow afternoon to make up a previously rained out game. The game starts at 1:05 PM (CST) and can be seen on WGN. Jon Lester (8-9, 3.58) will get the start for the Cubs in what should be a very good matchup against Corey Kluber (8-13, 3.52) for the Indians.