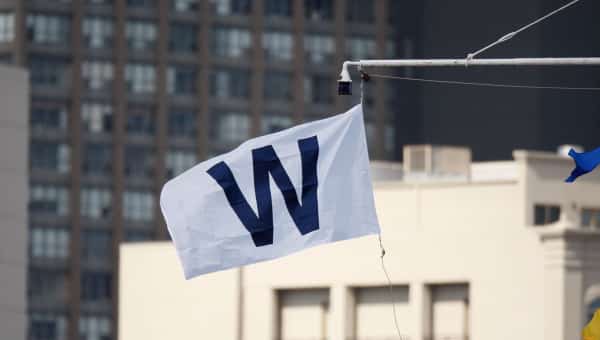 A Tip of the Recap – August 22nd
The comeback Cubs were at it again as they came from behind against a familiar face (Edwin Jackson) to win by a score 0f 9-7 over the Braves.
The Good
There were plenty of offensive stars in this game with Miguel Montero and Jorge Soler going back-to-back in the 8th off of Edwin Jackson to take the lead for good.
Dexter Fowler was solid at the top today, going 3 for 5 with his 7th triple and 2 runs scored. Fowler continues to rake in the 2nd half and is now hitting .256 on the year (up from the .230's in mid-July).
The 4-5-6-7 hitters really produced today with the four of them driving in 7 of the 9 runs and hitting 3 HRs. Anthony Rizzo hit his 25th HR and drove in another with an RBI ground to give him 76 on the year.
Kris Bryant was clutch with a 2-out, 2-run double (his 21st) to help answer the 5-spot the Braves put in the top of the 5th. He is hitting .257 on the year with 71 RBI (good enough for 2nd on the team behind Rizzo).
Miguel Montero scored Bryant in the 5th with his own 2-out RBI double (his 9th) and he later hit a HR in the 8th to give the Cubs the lead. It was his 12th HR and he now has 38 RBI to go with his .237 AVG.
Jorge Soler looks even better out of the 7th spot in the lineup, going 2 for 4 with his 7th HR and 2 runs scored. He is hitting .268 and has 42 RBI as he looks ready to go on an extended hot streak.
Addison Russell was also huge with the stick out of the 9 hole in the lineup. He went 2 for 4 with an RBI single and his 9th HR to give him 34 RBI and a .248 AVG. He is on a different level and has made such a good adjustment at the plate after struggling in June quite a bit.
The pen did a great job again with 4 shutout innings from Tommy Hunter, Clayton Richard, Pedro Strop and then Hector Rondon. They collectively gave up just 1 hit with no walks and 3 Ks as a group with Strop earning his 2nd win and Rondon getting his 23rd save on just 6 pitches.
The Bad
Dan Haren wasn't great today and only made it through 4.1 innings and gave up 4 runs (all earned) on 6 hits (1 HR), no walks and 3 Ks. He got the no decision but saw his ERA rise to 3.76 and will get the Giants the next time out.
Travis Wood was very bad today and only lasted 0.2 innings, giving up 3 runs (all earned) on 4 hits (1 HR) and no walks. He got hit pretty hard and has sprinkled in a few duds with some really good performances. Hopefully he can get a little more consistent going forward.
On Deck
The Cubs will go for the 4 game sweep over the Braves tomorrow afternoon at 1:20 PM (CST) on WGN. Jason Hammel (6-5, 3.37) will get the start as he looks to go a little deeper into games against Matt Wisler (5-3, 4.65) for the Braves.