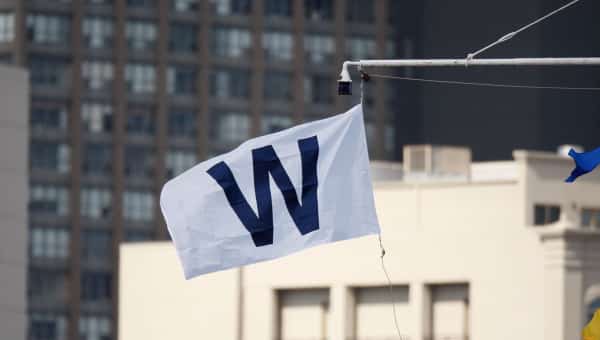 A Tip of the Recap – August 12th
The Cubs had to work a little extra to win their 6th in a row, but did so on a walk-off HR by Miguel Montero and won by a score of 3-2 in 10 innings over the Brewers.
The Good
There were so many good things to take away from this victory tonight: some power, clutch hitting, another win combined with losses by the Pirates, Giants and Nationals, and an amazing catch by Anthony Rizzo that will be seen for years to come on shows about amazing catches. If you didn't see it you let me summarize it for you: Rizzo stood on the tarp and caught a foul ball while falling into the stands.
Kris Bryant loves hitting at home and answered Ryan Braun's solo HR with a towering solo shot of his own into the RF basket. It was his 16th HR and 66th RBI to go with his .249 AVG. Bryant has now hit 13 of his 16 HRs at Wrigley and it is a good thing that a prolonged homestand still has a little ways to go yet.
Jason Hammel looked great tonight even though it did appear that he had a short leash from Joe Maddon. He went 5.2 innings and gave up just 1 run (earned) on 4 hits (1 solo HR by Braun) with 1 walk and 5 Ks. He was pulled after just 65 pitches and didn't look very happy about it.
Addison Russell came up big in the 5th with a timely 2-out single up the middle to score Miguel Montero from 2nd to put the Cubs up 2-1, a lead that almost held up for the rest of the game. It was Russell's 31st RBI and his now hitting .242 on the year. He did make a costly error in the top of the 9th that helped the Brewers tie it up at 2. It wasn't a terribly easy play, but it was one that should have been made.
Miguel Montero was the most clutch of all the batters tonight though, hitting an opposite field walk-off HR to LF to give the Cubs the 3-2 win. It was his 11th HR and 34th RBI. Instead of focusing on being the hero after the game, Montero apologized for not being able to stop the wild pitch in the 9th that allowed the Brewers to tie it up. To me, this is even more reason to love the guy.
The Bad
I won't put Hector Rondon here because it wasn't his fault that things worked out the way they did in the 9th. He got credited with a blown save, but it was really just bad luck. He gave up a bloop single then the next guy hit a grounder up the middle that Russell fielded cleanly and should have been at least a force out at 2nd,. Instead, a wild toss from Russell glanced off the glove of Castro and everyone was safe.
Rondon did throw a wild pitch to put men on 2nd and 3rd with no outs, but proceeded to strike the next 2 guys out before uncorking one more wild pitch to allow the runner on 3rd to score and tie the game. He struck out the 3rd guy and the rest is history, but Rondon deserved better and it wasn't his fault, so I guess the bad from this will be that some will blame him for the game not getting over in regulation when it was just a series of unfortunate events.
On Deck 
The Cubs will go for 7 in a row tomorrow afternoon as they finish their 3-game series with the Brewers. Game time is 1:20 PM (CST) and the game can be seen on ABC7. Jon Lester (7-8, 3.22) will get the start for the Cubs as he faces off against Tyler Cravy (0-3, 5.40) for the Brewers.