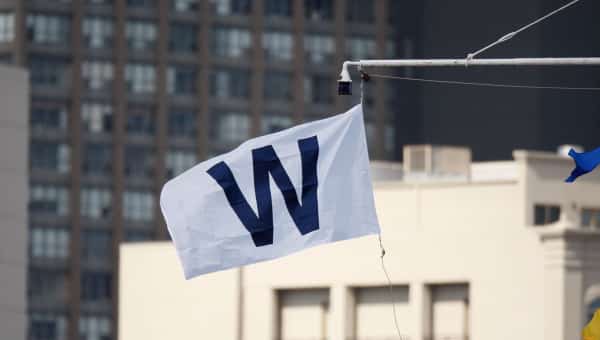 A Tip of the Recap – August 7th
The Cubs took game 2 against the Giants with some great pitching from Jon Lester and an offensive explosion of 7 runs to win by a score of 7-2.
The Good
Joe Maddon made some big moves today and they all worked out very well. First of all, he sat Starlin Castro and it doesn't appear to be a temporary thing. He played Addison Russell at short and Chris Coghlan at 2nd; he made a point to say that this isn't just a day off for Castro.
Maddon's other bold move was to bring in Hector Rondon in top of the 8th after Tommy Hunter was getting hit around a bit. Rondon calmly got the final 2 outs of the 8th then came out and closed it down for his 18th save. Maddon brought in his best reliever for the toughest part of the game (common sense, but also genius at the same time as it isn't done all that often).
The offense was the big story today as Dexter Fowler, Kyle Schwarber, Jorge Soler, and Coghlan provided all the punch for the potent Cubs offense. Fowler was a big bat at the top, finishing 3 for 5 with his 17th double and 11th HR with 2 runs scored and his 17th stolen base. He truly stuffed the stat sheet.
Schwarber and Soler had a big ABs in the 5 run 5th inning hitting a 2 run single off of the 2nd baseman's glove. He then was technically picked off of first, but was able to beat the throw to 2nd for his 2nd stolen base of the year.  He finished 2 for 5 with 2 runs scored and the 2 RBI (20 on the year) and is now hitting .345 on the year.
Jorge Soler is really turning it on with the bat and came up with a big 2-out, 2-run laser double to LF. It came in at 88 MPH but left his bat at 111 MPH and easily soared over the left fielder's head to score 2 and give him 34 RBI on the year with a now better-looking .269 AVG.
Chris Coghlan showed why it is important that his bat still makes it into the lineup as much as possible. He went 2 for 3 with an RBI and the only out he made was very productive as it moved the runner from 2nd to 3rd on a ground-out to the right side of the diamond. He handled a couple balls at 2nd just fine, but I don't know that I am in love with him playing 2nd base.
Addison Russell was fine at the plate with a 1 for 4 day with a single, but his big contribution was with the glove. He made a crazy tag on a stolen base attempt that saw him basically jump across the bag and tag the runner in one motion for the out. He also turned a double play on a comebacker from Lester that saw him almost bounce the ball into CF. Instead, in one motion, Russell dove towards the base while fielding the bad throw and tagging the base then made a strong throw to 1st for the double play. If you haven't caught the vines of these plays, find them.
Jon Lester pitched like an ace today and actually has been lights out for a while. He had a 1.66 ERA in July and looks like he is going to keep things going. He finished today giving up 2 runs (both earned) on 6 hits, 2 walks and 3 Ks in 7 innings. He improved to 7-8 on the year and lowered his ERA to 3.22.
The Bad
Tommy Hunter is all of a sudden giving up HRs (2 in his last 2 outings); today it was to light-hitting Nori Aoki. He gave up another single and retired 1 guy on a grounder to first before he was replaced with Rondon to get the final 2 outs of the inning.
Other than that though, 2 wins against the team directly behind you in the Wild Card race is a good start to the weekend and hopefully they can keep the good vibes going over the next 2 days. With the decisions Maddon is making, it does appear that the Cubs are not leaving much up to chance and they are putting the best guys in the best spots to serve the team's needs.
On Deck
Game 3 will be tomorrow afternoon with a 3:05 PM (CST) start time again and the game can be seen on ABC7 or your local affiliate. Kyle Hendricks (5-5, 3.67) will go for the Cubs with the Giants countering with Matt Cain (2-2, 4.91).