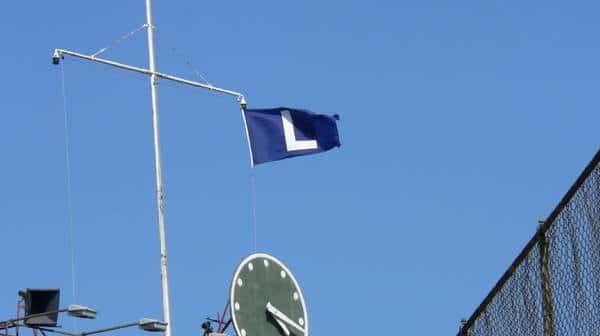 A Tip of the Recap July 26th
The Cubs were swept by a team that they should have no business being swept by, but that is why you play the games. They were blown out by the Phillies today by a score of 11-5.
The Good
There was not much good from this one, or from this whole series for that matter, but there were some decent individual performances from today's game.
Dexter Fowler went 1 for 2 with a solo HR (his 9th), a walk and 2 runs scored. Kyle Schwarber reached base 3 out of the 4 times he was at the plate with a single (his first Wrigley hit) and 2 walks. Addison Russell hit a 2-run HR (his 6th), but is still hitting just .233 on the year.
The biggest star of the day on both sides of the game was David Ross. He hit a solo HR in the bottom of the 9th after he entered the game in the top of the inning as a relief pitcher. He worked a perfect inning of relief and was the only pitcher to not surrender a hit or run. He used 8 pitches to get out of the inning (7 strikes) and the HR was his 1st as a Cub.
The Bad
It is awful when the best thing out of the day was David Ross pitching again and getting 3 outs without giving up any runs. The HRs from Fowler and Russell were nice, but obviously too little too late.
Jason Hammel did not have it going today and was rocked to the tune of 6 runs (all earned) on 8 hits (1 HR), and 1 walk. He struck out 3 and fell to 5-5 on the year with a 3.20 ERA.
Travis Wood and Yoervis Medina followed and gave up 9 hits and 5 runs between them in 4.1 innings of work. Medina did throw 70 pitches when I don't know that he is really set for that amount; he may be sent down for a fresher arm if needed this week.
Kris Bryant hit a sac fly for an RBI earlier in the day, but struck out in his 3 other ABs. He has now struck out 118 times (30.1%), which is in line with his numbers in the minors (but still a little higher than his worst: 28.6% in AAA last year). He does have one of those swings that is usually boom or bust, but he hasn't really had much boom in it lately.
On Deck
The Cubs will welcome the Rockies to Wrigley tomorrow evening on 7:05 PM (CST) in a game that can been seen on CSN+. The Rockies just pounded the Reds Sunday to the tune of 17-7, so they are coming in hot. Kyle Hendricks (4-5, 3.66) will get the call for the Cubs as he faces off against lefty Jorge De La Rosa (6-4, 4.62) for the Rockies.