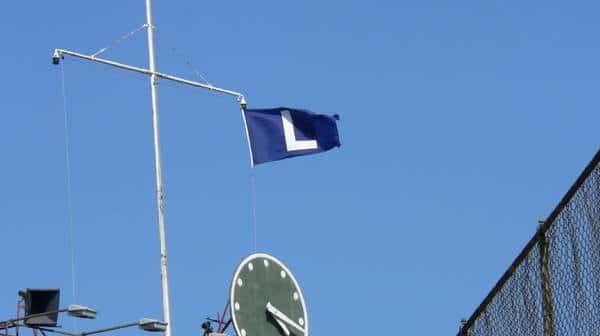 A Tip of the Recap – July 17th
The Cubs squandered some good chances early and Pedro Strop gave up 2 runs in the 8th to give the Braves a win in game 1 by a score of 4-2 tonight.
The Good
Kyle Schwarber had himself a great day with the bat in his first game back in the big leagues. He went 3 for 4 with 2 singles and a double as he pulled some sharply-hit balls to RF.
Kyle Hendricks pitched well enough in tonight's game, going 5.2 innings and giving up 2 runs (1 earned) on 4 hits and 1 walk with 5 Ks. It did take him over 100 pitches to get through the 2 outs in the 6th, but in actuality he would have been out of the inning earlier if not for a catcher's interference from Schwarber. Hendricks did lower his ERA to 3.44 on the year and will take that into his next start against the Reds.
Jorge Soler had a big 2-out, 2-run single in the 3rd inning to give the Cubs the lead (which they held until the bottom half of the inning). He was thrown out trying to go to 2nd by about 20 feet for the final out with a man on 3rd, so it killed a chance for more runs, but the hit was big. Soler now has 23 RBI to go along with a .260 AVG on the year.
The Bad
Schwarber's day behind the plate was not quite as good as when he was hitting. He had a throwing error that sailed on him in the 1st inning and which led to an unearned run and he also had that interference that prolonged the 6th inning and caused Hendricks to be removed. It wasn't terrible and he doesn't look that bad behind the plate, he just doesn't look as fluid as you would like for a MLB catcher.
Pedro Strop picked up where he left off with another bad outing to start his 2nd half. He walked 2 (1 intentionally) and gave up 3 hits on his way to giving up 2 runs to put the Cubs behind by a score of 4-2.
On Deck
Game 2 will be tomorrow evening on ABC7 with first pitch set for 6:10 PM (CST). Jon Lester (4-8, 3.48) will make his first start of the 2nd half for the Cubs against Manny Banuelos (1-0, 0.75) for the Braves.