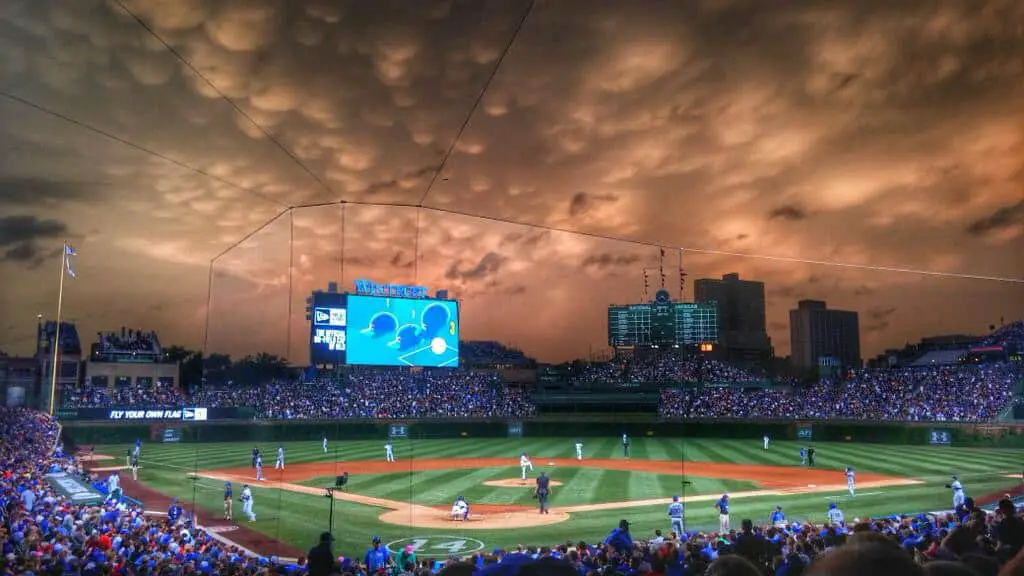 The Rundown: Cubs Top Kershaw, Bryant Records First Multi-HR Game, Wada and Fowler Exit with Injuries, Olt and Ramirez Head to AAA for Rehab
It was a bizarre night last night, with vicious storms threatening the Chicagoland area and a 10-minute delay caused by a power outage, but ultimately the Cubs came away with a huge win.
The Cubs had their work cut out for them with Clayton Kershaw on the mound for the Dodgers. But just as the Cubs have done all season, they battled.
It looked like it might be a long night for the Cubs' offense, as the three-time Cy Young winner was sharp early. But the game flipped after Kris Bryant took a Kershaw curveball out to right field for a two-run blast.
I was at the game last night, and off the bat it looked like Bryant's homer would be an easy flyout. But it just kept going. The wind was blowing out to right, but I think the home run was more a product of Bryant's great power.
This type of home run — one to the opposite field that looks like a can of corn off the bat — is something we saw a lot of from Bryant throughout his minor-league career and in Spring Training.
I could be wrong, but I believe this was his first oppo home run of the year. Expect to see some more before the year is over.
Matt Szczur, who before the game was called up to replace Kyle Schwarber, also homered off Kershaw to add an insurance run in the bottom of the 7th.
But Bryant wasn't quite finished. In the 8th, he crushed one to left — this one was a no-doubter — for his first multi-homer game in the big leagues.
The 4-2 win puts the Cubs at a season-high eight games over .500, with the third best record in the National League. Unfortunately, the two best teams are also in the NL Central.
But what a perfect night of baseball: the storms stayed away, the bullpen was awesome, and the Cubs beat one of the best pitchers in the game.
Injuries
Monday's game wasn't all sunshine and rainbows, however. Starter Tsuyoshi Wada was forced to exit the game in the 3rd inning with what was later revealed as shoulder cramping.
Whenever a pitcher points to his shoulder before leaving a game, it's usually not a good sign. However, if the issue was merely cramping, that's good news.
Gordon Wittenmyer tweets that Wada said he is confident he will make his next scheduled start (assuming he feels better on Tuesday).
If Wada can't go for some reason, Travis Wood could be in line as a fill-in, I would think. He came in to relieve Wada last night and did a great job.
Entering the game with a man on first and nobody out, he induced Clayton Kershaw to bunt into a double-play. That was a huge pitch.
Overall, Wood pitched 3.1 scoreless innings and gave up only one hit. He did walk three batters, but struck out four.
Also departing last night's game was Dexter Fowler. On a ball almost dropped but ultimately caught by Dodgers center fielder Joc Pederson, Fowler scampered back to first base and came up a little lame. He stayed in the game, but was taken out in the 5th inning.
The issue is with his ankle. Fowler received X-rays after the game, and we should know more today. Joe Maddon said for now, he's day to day.
On the mend
While we wait and see how severe the injuries are to Wada and Fowler, we can be happy knowing some long-awaited comebacks are getting closer.
Third baseman Mike Olt (broken wrist) and RHP Neil Ramirez (shoulder inflammation) have joined Triple-A Iowa. Both players have been sidelined since April.
Bruce Levine tweets that Ramirez could join the Cubs by the end of the week if everything goes all right. YES! The hard-throwing righty will make an already well-performing bullpen even stronger, and he will provide some stability.
And more good news, Jorge Soler is about a week away from beginning a rehab, Joe Maddon said before yesterday's game.
The pieces are beginning to come back together. Now, no more serious injuries for a while, please.
Power outage
Clayton Kershaw wasn't pleased about the 10-minute delay last night caused by some of the lights going out at Wrigley Field.
During the delay he could be seen arguing with the umpires and talking to Joe Maddon. And he even checked the batters box to test the sight lines. After the game, he said he could see fine, writes ESPN's Mark Saxon.
I have to say, from my vantage point at the game, the field was still lit up pretty well and it seemed like the game could have continued.
So was Maddon, who protested with the umpires to wait until the lights fully came back on, slowing the pace of the game down on purpose? I kind of got the feeling he was. Kershaw did too.
"Obviously, I wanted it to keep going, but if they were going to wait for however long just tell me and I'll go sit down," Kershaw said. "I don't know if Joe was trying to do that on purpose or what. It didn't really affect me, but it was a good idea."
I'm not sure if Maddon's actions truly had an effect on the game, but it's just another example of the little things he does that may go unnoticed.
Other notes
* First-round pick Ian Happ had a nice weekend playing for the Eugene Emeralds. He homered both on Saturday and Sunday while playing center field. The Cubs have had some luck in the past couple drafts taking high-end college bats. Did they do it again with Happ? Obviously, I'm not expecting Happ to be as good as Kris Bryant or Kyle Scwharber, and his early numbers certainly represent a small sample size. But it's fun to dream on Happ being another special talent.
* Minor-league outfielders Bill McKinney and Mark Zagunis were named part of MLB Pipeline's Prospect Team of the Week. Pretty cool to see the waves of offensive talent in the Cubs system.