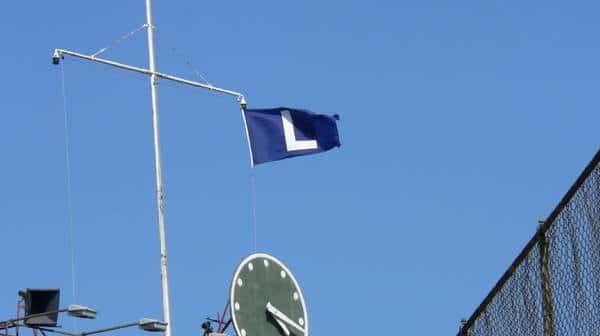 A Tip of the Recap – June 16th
The Cubs had chances early in the game but couldn't capitalize and lost to the Indians by a score of 6-0 tonight.
The Good
Addison Russell went 2 for 3 with a couple singles to bring his AVG to .254 for the year. He was the only player to reach base twice for the Cubs. He made an impressive stop on a rocket hit his way by Kipnis in the 8th and I have no doubt that he is an outstanding fielder who can excel at either spot in the middle infield.
Kris Bryant extended his hit streak to 12 games with an infield single. It is his 2nd 12-game hitting streak of the season and his bat has really started to heat up recently. Hopefully the power will start to come again and he will hit a bunch of HRs here soon.
Edwin Jackson did some cleaning up tonight, pitching 2 innings and giving up just an earned run on 2 hits and 0 walks. He bridged Arrieta's short outing to the 8th inning for the pen and has really been solid in this role (more solid than I thought he was going to be).
Miguel Montero got tossed after the top of the 8th, which normally isn't good. But in this case it allowed Kyle Schwarber to enter the game in the top of the 9th behind the plate and then lead off the bottom of the 9th (K'd looking), which was good for the fans that had to sit through a scoreless effort from the team. Schwarber looked competent in his inning of work; he did drop a couple pitches but he did end up blocking a couple in the dirt too, so overall not bad.
The Bad
Jake Arrieta was all kinds of out of sorts tonight and he really struggled for his entire outing. He needed 112 pitches to get through 5 innings of unimpressive work. He gave up 4 runs (all earned) on just 3 hits (1 HR) and 6 walks (2nd time in his career he has walked 6) with 6 Ks. Maybe it was the extra day that threw him off or maybe he just didn't have it; either way I would bet his next start shows quite a bit of improvement.
Offensively, the Cubs were able to get men on during the first few innings but couldn't get them in and left a total of 12 men on base.
Zac Rosscup gave up some very solid contact including a flyout right to wall by Brantleyand an RBI double to Santana in the LF corner before being replaced by Justin Grimm because of an injury. In his 1/3 of work he gave up an earned run on 2 hits and a walk. His ERA now sits at 4.30 and we will have to see if the injury is something of importance or not; he did not seem to have the same life on his fastball that he normally does.
On Deck
The Cubs will travel to Cleveland for 2 more games with Indians. Tomorrow's game will start at 6:10 PM (CST) on CSN+ in the Chicagoland area. Tsuyoshi Wada (0-1, 4.84) will try to show he should stay in the rotation after quite a few rough outings recently for the Cubs. He will go up against Shaun Marcum (3-1, 4.09) for the Indians.