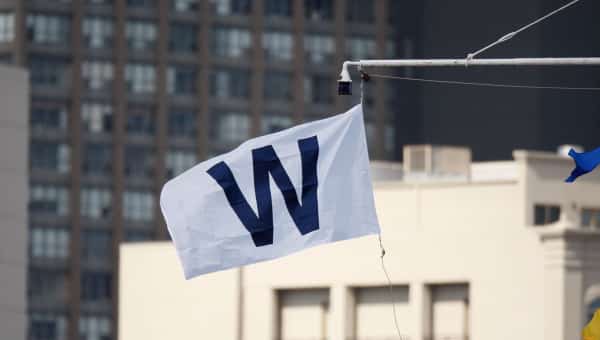 A Tip of the Recap – June 10th
Now that is more like it. After laying a goose egg last night, the Cubs put up a season high 12 runs on the way to a 12-3 victory over the Tigers.
The Good
Instead of last night's singles-only party, the Cubs really slugged the ball all over the diamond and almost all of the lineup got in on the action. Every starter (except for Kris Bryant) had at least 1 hit and 6 Cubs had at least 2 hits.
Miguel Montero had probably his best game tonight; he went 3 for 5 with a 3-run HR (his 7th) to really put the game out of reach. He is now hitting .241 and has 20 RBI on the year; it would be great if Montero could get hot and boost the offense.
Mike Baxter was a big force in the bottom part of the lineup tonight, going 2 for 3 with a single, double and 2 walks to reach base 4 times. He scored 3 of the 4 times he was on base and I must say that I was less than excited to see his name in the starting lineup, but he made me eat crow with this performance.
Chris Coghlan is really getting some great results lately. Tonight he went 2 for 5 with a 3-run HR of his own to give him 8 HR and 18 RBI on the year. His career high for HR's is 9 and I will go out on a limb and say that he will surpass that this year before the All-Star game. He is up to .235 on the year and I would like to see him in the lineup every day there is a righty on the mound.
Dexter Fowler's bat is coming alive; he went 2 for 5 with a leadoff triple in the 1st, a run scored, RBI and a walk. He is hitting .248, but his contact has been much more consistent and solid.
Anthony Rizzo was 2 for 6 with a couple singles, including a 2-run single in the 6-run 7th inning. He leads the team with 37 RBI and he is up to .327. It is a shame that he isn't getting more love in the All-Star balloting, but I'm sure he will still make it to Cincinnati for the mid-summer classic.
Jake Arrieta had a great start and really cruised at the beginning before getting into some trouble in the 5th and 6th innings. He did give up a 3-run HR to Cespedes in the 6th, but finished with 6 innings, scattered 8 hits, with 1 walk and 8 Ks. He improved to 6-4 on the year with a 3.16 ERA.
Grimm, Rosscup and Wood finished the last 3 innings with scoreless work, giving up just 2 hits, 0 walks and 3 Ks.
The Bad
I can't say there was anything bad about this one. The offense showed up in a big way and Arrieta was good enough to get the win with an easy load from the pen.
On Deck
The Cubs will return home to fully functional bleachers tomorrow night for game 1 of a 4 game series with the Reds. First pitch is scheduled for 7:05 PM (CST) and will be televised on CSN and FoxSports Ohio. Tsuyoshi Wada (0-1, 4.19) will take the ball for the Cubs in game 1 and will look to improve after last time's rough outing against the Nats (5 runs in 3.2 innings). He will face off against Michael Lorenzen (1-1, 3.29) for the Reds.