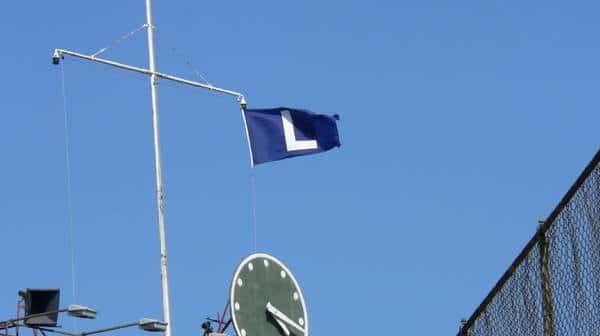 A Tip of the Recap – May 9th
Kris Bryant finally hit his first HR, but the Cubs were destroyed by the Brewers by a score of 12-4 tonight.
The Good 
Obviously the good news of the day was Kris Bryant's first HR, a towering shot to left for a 3-run HR. It was his only hit, but he now has 17 RBI on the season and I think the HRs will come in bunches now that he has the first one out of the way.
Dexter Fowler was good again at the top, as he had 2 more hits (both doubles) today and scored a run. He is now hitting .268 and has 17 runs scored on the year.
James Russell was the only "regular" pitcher to not give up a run, but David Ross also got into the game as a pitcher and threw 9 of his 11 pitches for strikes.
The Bad
Phil Coke and Jason Motte weren't good, but they weren't as bad as Travis Wood and Edwin Jackson. Coke gave up 2 earned runs of his own, while also allowing both of his inherited runners, both of which were charged to Edwin Jackson, to score.
Jason Motte only gave up an earned run on a couple hits and walk in his inning of work. The game was a blowout though, so it isn't like 1 run is that big of a deal at this point.
The Ugly
Travis Wood was awful tonight and gave up 6 runs (4 earned) on 6 hits (2 HRs), 1 walk and 3 Ks in just 4 innings. His ERA is now at 4.96 and even though his defense wasn't great behind him (2 errors led to his 2 unearned runs), he still got hit hard.
Edwin Jackson was even worse; he walked the first two hitters he faced then gave up an RBI double before being replaced by Phil Coke. E-Jax didn't retire a single batter and his ERA is now at 4.66 for the season and he has been about as bad out of the 'pen as he was as a starter. This was the 2nd time has come into a game and been removed without retiring a hitter.
On Deck
The Cubs will look to avoid another series loss to the Brewers tomorrow afternoon at 1:10 PM (CST) on WGN. Kyle Hendricks (0-1, 5.61) gets the start for the Cubs against a familiar face, Matt Garza (2-4, 4.58)