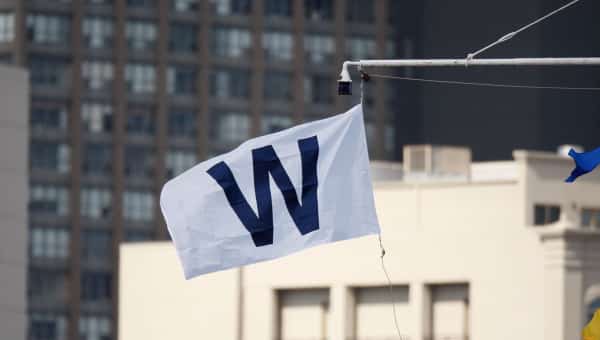 A Tip of the Recap – April 26th
The Cubs swept the Reds in their abbreviated series with a 5-2 win today.
The Good
Miguel Montero got the scoring started with a solo shot (his 3rd) in the 2nd inning. He later added an RBI single to give the Cubs a 2-0 lead.  He is only hitting .211, but has driven in 9 runs and I would love to see him get all of the starts against right-handed pitching going forward.
Addison Russell hasn't done much offensively thus far, but he came up with the bases-loaded and two outs and battled off some great pitches before hitting a 3-run double to right-center to clear the bases. He is just hitting .136, but he has contributed greatly on "D" and the bat will eventually come.
Jake Arrieta was in complete cruise control through the first 3.2 innings, but then Todd Frazier touched him up for a solo shot in left then he proceeded to struggle through the next 2.1 innings. He limited the damage and pitched well enough to get out of jams.
In all he went 6 innings, gave up 2 runs (both earned) on 4 hits and 3 walks with 6 Ks. He improved to 3-1 on the season with a 2.03 ERA.
Rosscup, Strop and Rondon closed out the last 3 innings without much fanfare. Rondon struck out 2 and earned his 4th save.
The Bad
Jorge Soler struck out 2 more times today and his ever-expanding strike zone was pointed out by Joe Maddon before the game. I agree with Maddon on this as it appears that Soler is swinging at pitches that he had been laying off earlier in the season. I think he will correct it, but until then he is having some rough ABs.
The Ugly
Nothing ugly from this win; Arrieta had some dicey innings in there, but worked around them and got out of them mostly unscathed. A good win all around for the Cubs.
On Deck
The Cubs face off against the Pirates for 3 games at the Friendly Confines. Game one will feature Jason Hammel (1-1, 5.19) for the Cubs going against Vance Worley (2-1, 4.00) for the Pirates. The Cubs just got done splitting a 4 game series with the Pirates earlier this week, so these should be some very closely contested games.