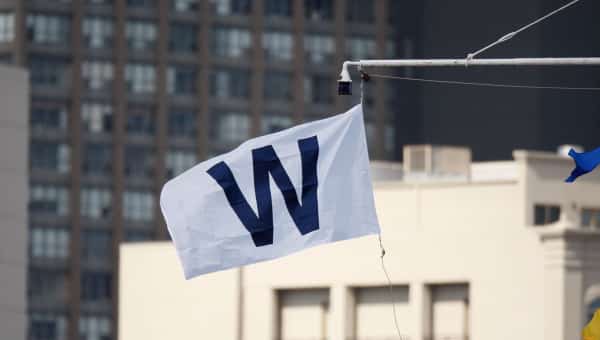 A Tip of the Recap – April 24th
The Cubs came from behind and eventually beat the Reds by a score of 7-3 in 11 innings.
The Good
Anthony Rizzo was a hit machine and went 3 for 4 with a single, double, HR (his 2nd), a walk, 2 RBI and 2 runs scored. He filled the stat sheet and is now hitting .345 on the season.
Kris Bryant reached base 3 more times tonight on 2 singles and walk. He has really shown impressive on-base skills with an OBP of .526 in 8 games. In all, he has struck out 8 times while also walking 8 times.
Jonathan Herrera came up huge in the top of the 11th with a go-ahead RBI single. An intentional walk later and David Ross came up with the bases loaded to hit a 2-run double to provide all the insurance the Cubs would need.
Chris Coghlan hit a game-tying HR in the 7th inning (his team-leading 3rd HR).
Jon Lester made his best start as a Cub; he went 6 innings and gave up 3 runs (all earned) on 5 hits, 0 walks and 10 Ks.
Coke, German, Rosscup, Motte and Rondon combined to throw 5 shutout innings with 3 hits, 3 walks and 6 Ks.
The Bad
The Cubs struck out 14 times tonight and left 12 men on base. Situationally, they have some work to do on offense; too many people failed with men in scoring position and less than 2 outs.
The Ugly
Young (hopeful) superstars Jorge Soler and Addison Russell have really been scuffling. Tonight they combined to go 0 for 10 with 7 Ks. They both could probably benefit from a breather/day off here soon.
On Deck
The Cubs will look to continue their winning ways tomorrow against the Reds. Jake Arrieta (2-1, 1.74) will get the call for the Cubs against Anthony DeScalafani (2-0, 0.86). The game should be shown on Channel 7 ABC in the Chicagoland area.