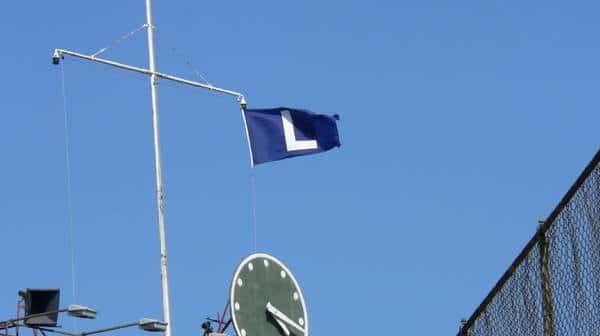 A Tip of the Recap – April 17th
The Cubs dropped the Kris Bryant debut today by a score of 5-4.
The Good
Dexter Fowler had a good day at the plate; he had a double (his 3rd) and 2 singles while scoring a run. Despite being clearly visible since there's no foliage yet, his double was "lost" in the ivy and still counted for a ground-rule double. Fowler also stole 2nd base (his 3rd) in the 9th inning  to get himself in scoring position.
Anthony Rizzo hit an RBI double and reached base two more times via walks. His double was hit off the first base bag and drove in his 5th run of the season.
Jorge Soler also added an RBI single (8th RBI) up the middle off of James Shields, which was a stroke of good luck because otherwise it may have been a double-play ball.
Jason Hammel deserved better, but in the end finished with 6.1 innings pitched, 4 runs (all earned), given up on 7 hits, 1 walk with 5 K's. He should have only 2 runs credited to him, but instead of the ump pulling the trigger on a two-strike pitch from Schlitter (who relieved Hammel), he called it a ball for Wil Myers.
Myers proceeded to crush the next pitch to dead center for a 3-run HR that gave the Padres the lead for good.
The Bad
Kris Bryant made some very good plays on D, snagging several line drives (including a diving stop) and turning 2 double plays. At the plate, it was a debut he will probably want to forget. He was 0 for 4 with 3 K's and left 5 men on base including several in scoring position.
Schlitter did get squeezed on the call by Holbrook, but he definitely followed with a bad pitch that was over the heart of the plate and turned into a 3-run shot for Myers.
Beef looked bad at the plate as well today, going 0 for 4 with 2 K's. The 3-headed catching monster is tough to juggle and it's even tougher to get consistent AB's for the 3 guys. I would have preferred to see Montero behind the plate with Shields on base and let Ross and Castillo split the ABs against lefties.
The Ugly
Joe Maddon went out to argue with home plate umpire Sam Holbrook after Myers hit his 3-run HR for the lead. He took exception to the missed 3rd strike call and also a check-swing call that went the wrong way and then turned into a 2-run HR for Will Middlebrooks.
It wasn't ugly on Maddon's part, but more so on Holbrook's, though the pitch was borderline low. As a Cubs fan, it definitely looked good enough to me. Either way, it was good to see Maddon stick up for Schlitter, not that it surprises me that he did that.
On Deck
The Cubs will look to even the series tomorrow as Kyle Hendricks (0-0, 10.38) looks to improve after his first start against Tyson Ross (1-0, 3.75) for the Padres. The game is at 1:20 PM (CST) and will be televised on CSN.